Epic Pitmaster
OTBS Member
SMF Premier Member
10,326
4,002
Joined Oct 31, 2012
I had some friends coming over for a casual dinner. I also had a nice piece of chuck roast. Time for a beef dip!
I started with about a 2 kg 4 pound chuck and rubbed it down with SPOG (salt, pepper, onion powder, garlic powder). I put chunks of one onion, one large carrot, 1 stalk celery and 2 cloves garlic in a roasting pan. This is the start of an au jus based on Chef Jimmy J's recipe but I have simplified it for my humble tastes.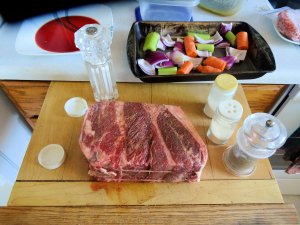 I put the chuck on a rack over the roasting pan and put it in a 230 F pellet smoker competition blend pellets and fired up the Amaz'n Tube Smoker with the same. I put the chuck in.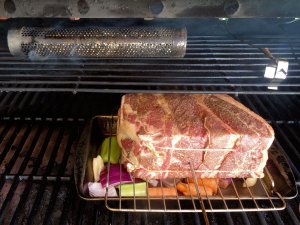 I smoked it for 1 hour and added 500 ml (2 cups) of beef stock to the roasting pan. I smoked for 3 more hours.
I added 500 ml (2 cups) of water to the pan and covered with foil and put it back in the smoker. At this point, you could put it in the oven as it won't pick up any more smoke in the oven. It was a warm day so I continued in the smoker rather than heat up the house.
I brought it in and let it rest on a cutting board while I made the jus for the beef dip.
I put the juices and vegetables from the pan in a saucepan. I added 50 ml (1/4 cup) ketchup, 15 ml (1 tbsp) Worcestershire Sauce and 250 ml (1 cup) red wine. I simmered the vegetables for 10 minutes over medium heat.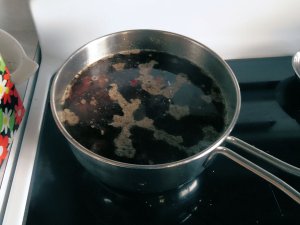 I strained the liquid off the vegetables.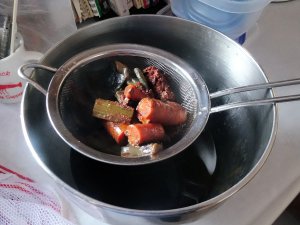 I defatted the liquid by putting in in a clear measure and pulling the liquid from under the fat with a poultry baster.I added enough beef stock to make it up to 750 ml (3 cups) of au jus.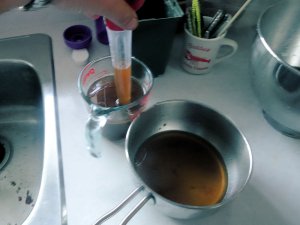 I pulled the bone out and sliced the meat.
I put a cup of au jus on each plate and served the meat with slices of Emmenthal (Swiss) cheese. I also had some home made tiger sauce on the table. I put out Portuguese rolls. Sadly I didn't take any pictures as I was busy with my guests but here are some pictures of a left over dip I had for lunch the next day.
This is a favourite beef dip around here. They guests like it and it makes a great meal.
Disco
Last edited: