Master of the Pit
SMF Premier Member
4,666
2,144
Joined Aug 13, 2015
I've been thinking about making a lower sodium pizza myself for a while and the recent posts and rainy days gave me the "Oomph" I needed.
The first step was to make our own sauce:
1) 15oz can of "No Salt Added" Tomato sauce
1) 6oz can of "No Salt Added" Tomato paste
1 Tb Oregano
1 1/2 Tsp Dry Minced Garlic
1 Tsp Paprika
1/2 Tsp Basil
1 Tsp White Sugar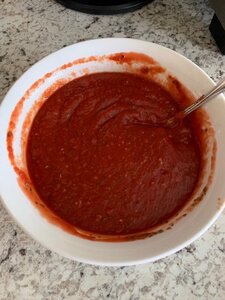 Next step was a crust. I found one simple enough for even me to tackle.
I'm picturing the recipe so you can see that I wasn't just being lazy about not letting it rise and not rolling it.
The recipe didn't call for it.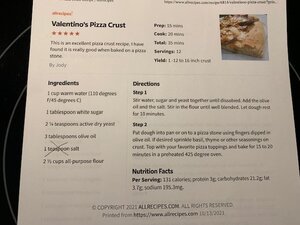 It rested for 10 minutes and got rolled and kneaded into a ball.
So here we go:
Sprayed a 12" C.I. pan with Pam and added a light sprinkle of Corn Meal: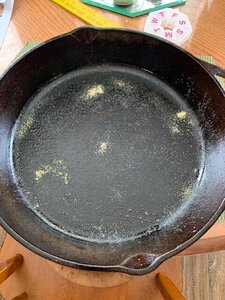 Next I spread the dough out as evenly as I could and gave it a bit of Grated Fresh Romano:
Added sauce. The Mrs. doesn't like a lot of sauce so, well. you know..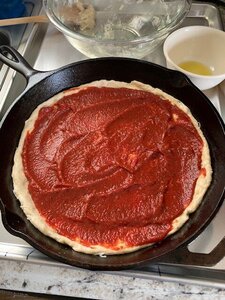 Then some Mozzarella:
I had to sacrifice a couple of my recently stuffed Sweet Italians.
Skinned them and nuked them for a couple of minutes: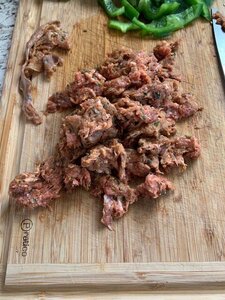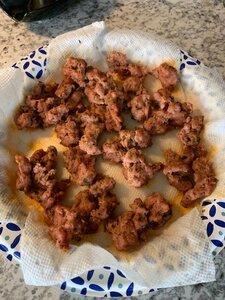 Next the sausage: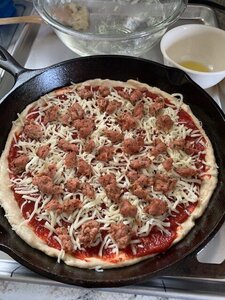 Then Mushrooms and Onions:
Bell Peppers and more cheese: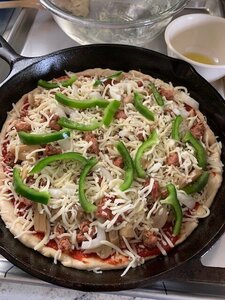 Finally, Pepperoni and more cheese:
Into the oven at 425 for just under 25 minutes. The dough recipe said 15 to 20 but I figured the iron needed to heat up a bit.
I figured it was done when the crust looked right.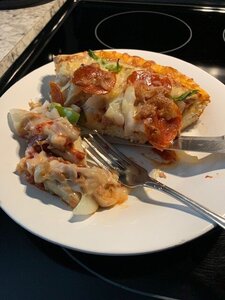 All in all, I'm very happy with how it turned out.
The crust was a little thick in some places but soft and chewy like we like it.
The Mrs. has already had a small slice for "brunch" and I'm making up a Garlic Butter dip for dinner.
I know the Cheese and Pepperoni blew the "Lower Sodium" thing out of the water, but the No Salt sauce and crust
had to help a little ;-)
I know it's a long post, but it's another rainy day and I have nothing to cook and needed something to pass an hour or so.
If you had the patience to sit through it Bless You and Have a nice day!
Dan