Meat Mopper
Original poster
★ Lifetime Premier ★
My wife is a St Louis gal so when I asked her what she wanted for Memorial Day she said pork steaks. Who was I to say no.
Started off with a good coating of kosher salt and then back in the fridge for about a four o
hour nap. Brought them out, gave them a quick rinse, dry them off with a paper towel then a good coating of sweet heat rub.
Cooked them on the gas grill (Weber Genesis) with a oak chips and some hickory pellets in the wood tray.
Sauced them with Head Country Apple Habanero BBQ sauce.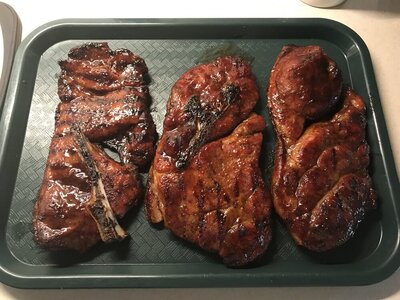 I didn't get a picture of the plate, served up with her potato salad.
good eating tonight.
Last edited: