668
645
Joined Sep 28, 2018
I love my kids. When I asked what they wanted for supper last night they didn't say "chicken nuggets" or "corn dogs", they said "enchiladas!...but not too spicy, Dad."
Wish granted.
I started with some leftover pulled pork.
Chopped it up and mixed in some cheese and spices.
Rolled it up in corn tortillas.
Topped it with my homemade hatch green chile enchilada sauce. (For the kiddos I just used some store bought mild green chile sauce)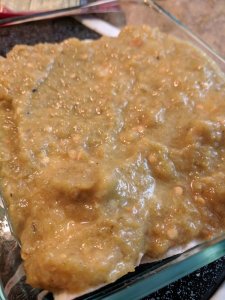 Sauce recipe
is in a comment below (or click the link)
More cheese.
And *boom* enchiladas!
This was my first time using pulled pork in enchiladas. The smoke added another depth of flavor that was a great compliment to a dish that is already one of my favorites!
Last edited: