668
645
Joined Sep 28, 2018
We had our annual New Year's Eve Chili Cook-Off at church tonight. I had 2 lbs of smoked chuck leftover from my
chuck tacos
, so I decided to use that in my chili.
My 8 year old heard the word "competition" and wanted in. She's insanely competitive and started working on a recipe about 3 months ago all on her own.
We're chili purists at this house in the style of Texas. Beef and chiles. No beans. No tomatoes. Just a delicious bowl of red.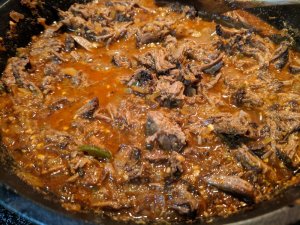 All of these Montanans scoffed at our "Texas Chili Puritanism". To make a long story short, I took 1st and my 8 year old took 2nd.