Master of the Pit
Original poster
OTBS Member
★ Lifetime Premier ★
Instead of making ABT's 'upright' or the horizontal 'half peppers', here is an alternate method. It works good if you add a Lil' Smokey or some sausage , but it gives the bacon a seat. Here is the prep, a cut across each end, then side cuts.
I don't go super heavy on the rub in the cream cheese...
I do pound out my bacon, and the pieces on the right are 1/2 of a strip.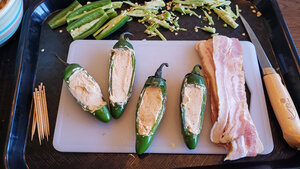 You can buy the 'thin' cut bacon, but pounding gives you more width and length, and it gets slightly sticky which is a good thing for ABT's or wrapping pepper rings.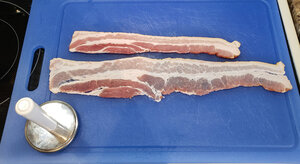 Rolled and ready.
Fresh off the BGE