Epic Pitmaster
OTBS Member
SMF Premier Member
★ Lifetime Premier ★
10,686
7,171
Joined Dec 14, 2013
This is another Owens mix , and it's a good one . I was waiting on some muslin bags , and was wanting to do the Len Poli pork roll clone . Bags finally got here last week .
I had 2 lbs of pork cushion and 1 lb of bacon . I've had the German Bologna mix for awhile , and decided to use that instead .
I like doing smaller batches for a couple reasons . I enjoy doing it . I think smaller batches give a better end result , and fresh is better . In my experience it's never the same after freezing .
Anyway , I do my normal of cut grind and mix the first day , then stuff the next day . I also did 8 lbs. of Andouille from pork butt along with the bologna .
So , first time using the cloth bags . Followed a tip for rinsing the bags then wringing them out . Stuffed 2 smaller chubs .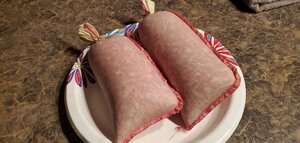 So while I was waiting for the chubs to dry a bit , and come up in temp I figured I'd make a sandwich .
Fried up a couple patties , and a couple eggs .
Stacked up and add some cheese . Put some slider buns on to catch some steam .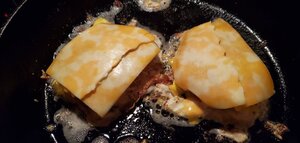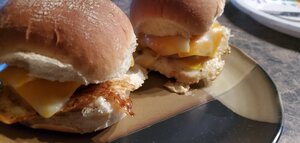 Had the smoker heating up . Set the Auber to 130 . Hung the chubs in the smoker to dry for 1 hour .
Then smoked with oak pellets with a tube in the mailbox for 2 hours . After 2 hours of smoke , I took the tube out ,
and bumped the smoker temp to 165 . I've started doing a smoke / cook method instead of bumping temps every hour .
Hit 152 internal temp at about the 9 hour mark . Sometimes I'll just shut the smoker off and leave it in there overnight .
This time I pulled them and hung in the basement overnight . It's around 60 degrees in the workshop .
No water bath . I was watching TV in there , smelled great . That 2 hour smoke is perfect for this .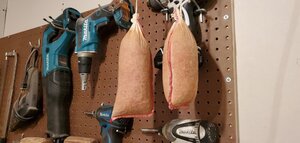 I couldn't hardly stand it . Got up this morning and went right to the basement .
Got some good shrink on them . They look great . I really like the bags .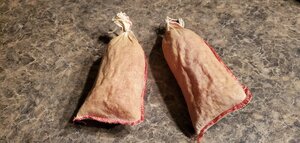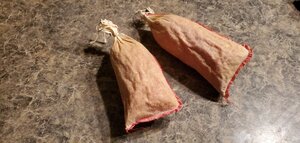 Time for some breakfast .
I was a bit worried about peeling the bags off . Cut down the side , comes off pretty easy .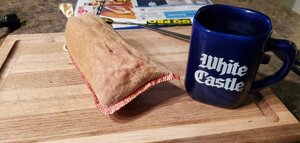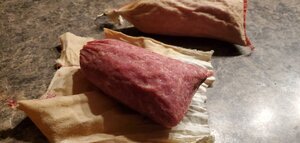 Taste and texture is perfect . Amount of smoke for bologna is perfect .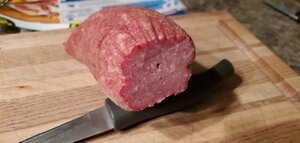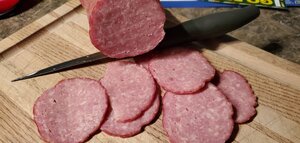 This mix has great bologna flavor . I also think using bacon in the mix really adds to it .
So thanks for looking , and if you order from Owens , grab some German bologna .