Fire Starter
Original poster
Took my first crack at some Canadian Bacon and Venison Dried Beef last weekend. I had some pork loins which I bought over the holidays and got into Pop's Brine for 10 days. 2 whole loins cut into 8 pieces total. I ended up rolling 4 of the pieces into corn meal and making a "peameal" bacon. While the other 4 were destined for CB in the smoker.
Loins after curing
"Peameal" Bacon
https://www.smokingmeatforums.com/ams/pops-wet-curing-brine.9561/
Also, I had a leftover hunk of tenderloin from my first deer which I got earlier this year. After grilling some up for dinner for my Dad and I on new years eve weekend, I put the leftover tenderloin into a brine/curing marinade I have used for jerky and let it cure about 6-7 days.
Recipe can be found here
https://www.jerkyholic.com/original-jerky/
... Also there are several other recipes on the site which I want to try out in the future.
For the remainder of the prep and smoking, I basically followed Bear's step by step below, but since I had a much smaller piece of Venison, the timing was a little different. The thing that surprised me the most, was that the small tenderloin ended up finishing at the same time as the larger pieces of CB.
https://www.smokingmeatforums.com/threads/canadian-bacon-and-dried-beef-cured-smoked.109617/
Out of cure and pellicle formed overnight in the fridge. 3/4 CB rubbed with Brown Sugar, CBP, Garlic Powder, the last just some brown sugar. The VDB I gave a little CBP and GP
And of course some Qview / pictures of the process. The CB and VDB turned out great, but I have not had a chance to try the "peameal" yet.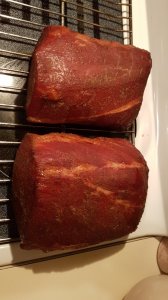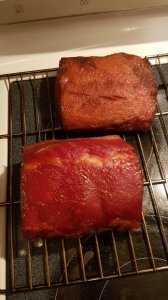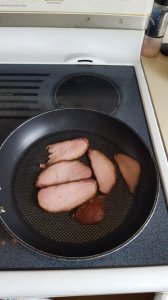 Would just like to thank all the members here again for all the information, step by steps etc. It has made the jump into smoking a great experience and I have been turning out some great tasting food already.