Legendary Pitmaster
OTBS Member
SMF Premier Member
★ Lifetime Premier ★
7,606
3,966
Joined Dec 14, 2013
This is the 5th brisket I've smoked . I use my 26 " kettle to do these . Works great for longer smokes . Been cooking on kettles along time . Just never did brisket . The first one I did awhile back came out fantastic . The second was even better . So I took a " what's so hard about brisket " mind set and did brisket no. 3 . Complete fail . I scrounged enough from it to do a pizza . The rest went in the trash . Waited a bit and had to try again . Number 4 was ok . I think some of that result was the meat itself . Most of it is chopped and vac'd in the " emergency " section of the deep freeze . So the other ones I had stocked got ground up for burgers .
Prices came down last week . Shelf was full and quality was way better . Grabbed 3 . One was 8 pounds . Perfect for a smoke .
Trimmed it up and rubbed it down with coarse salt and cracked black pepper . Wrapped and in the fridge over night . Then I set up the snake in the kettle . Added wood chunks and chips to that , fill the chimney and stuffed the paper underneath . Put the lid on . So all I have to do in the morning is light the chimney .
Couple pics . Not much to trim on the bottom . Took 1 1/2 pounds off the top
Left about a half inch of fat at the thickest part .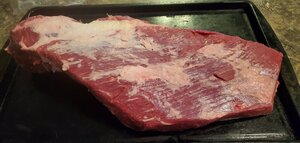 Black pepper and kosher salt .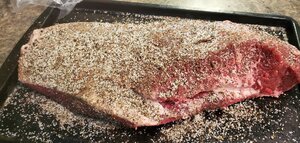 After I get it on the kettle , I don't look . Lets to much heat out .
That 26 with the way I set up the snake likes to run at 260 with the vents almost closed .
I can easily get an increase in temp just with a minor adjustment . The one touch vents don't take much , so you have to be careful it don't run away on you .
Very small adjustments .
I put it on at 8 am . Ran around 270 . Reached 170 at 1:00 . Pulled and wrapped in pink paper .
Then back on the kettle until the snake ran out . Then it went to a 275 degree oven to finish .
Kettle ran at 270 for 8 hours .
Ready to wrap at 5 hour mark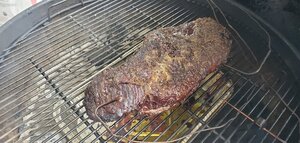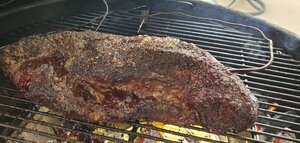 Internal temp was 180 or so when it went to the oven .
Didn't take long to finish . Had plenty of smoke by this time .
Oven finish was perfect .
Out of the oven , I T was 201 . The point was like butter . The flat was right there .
Needed a little more , but was hoping resting would take care of that .
No cooler this time . Just on the counter . Layer of plastic wrap and a couple towels .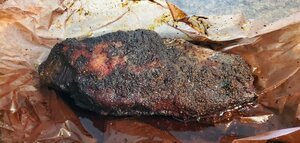 On the board ,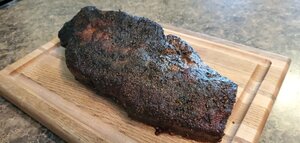 Sliced up . Salt , pepper , beef and smoke . Needs nothing else .
That's more like it .
Plated up . Made some beans . Dried them out in the MES . ( Forgot about them )
Corn , a boxed pasta salad and the mayo bread my son makes .
This came out really good . When you get the brisket right it really is
hard to beat .
Had left overs for Sunday supper . Cold out of the fridge '
Couple slices .
Had some leftover corn , and some crack pasta from another meal . That's some good stuff if you never had it .
Cream cheese based done in the instant pot .
Did this as a sandwich . Just brisket on a bun . Great flavor from mesquite smoked brisket .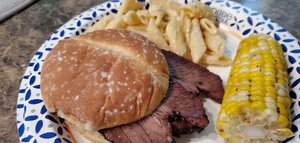 This was a perfect smoke . I love using the 26 for this . So much fun to cook on .
Thanks for looking .
Here's a link to the bread if you missed it the first time . It's good .
This has been around for awhile . I'm sure some have done it , or at least had it . For some it my be new . My Son has been making this , thought I would post it up . He adjust the amounts to cover the amount of bread , so I don't have exact amounts . Starts with some Mayo . We use Dukes...
www.smokingmeatforums.com
Stay safe , be smart and show respect to others even if you disagree .