Epic Pitmaster
OTBS Member
SMF Premier Member
10,828
4,753
Joined Oct 31, 2012
I must start with an apology to Koreans for many parts of this post. I love Korean Fried Chicken. It has a great crisp texture with a complex sweet sauce. The first time I saw it was in a post on youtube.
They double fried chicken and made a Yangnyeom sauce. My western ears heard Yum Yum sauce. Talk about inappropriate cultural appropriation. I am so sorry.
I noted there were ingredients hard to find here. She used red paste which research suggests to me was gochujang, a Korean chili paste. So, if I was going to make this recipe I was in trouble from the start.
Then, I sought it out and found a local restaurant served this, I tried it and immediately fell in love. However, it was a little spicy for my old Canadian system.
Here is where I stood. If I tried to use alternate ingredients, made it less spicy, and changed it would I be making Korean fried chicken? I decided, no. However, I wanted to make something similar.
So, I used my mishearing version of the sauce and will call this dish Yum Yum Chicken. Not as a joke but out of respect to the original dish which I hope you get to try. To call my recipe Korean Fried Chicken would be a disservice. I would encourage you to try the real Korean Fried Chicken. You will love it.
Loving using my Traeger Timberline, I decided to use an oven "fried" chicken recipe from my
Double D "Fried" Chicken
recipe to "fry" the chicken as I find the double fried version of the original chicken messy.
For the sauce, I will use commercial Chili Sauce instead of the Korean hotter version. I will add Sriracha for heat if desired. Use none for mild, 1 ml (1/4 teaspoon) for a touch of heat and 3 ml (1/2 teaspoon) for a nice warmth.
Now, let's get started!
It was just She Who Must Be Obeyed so I used four chicken thigs (about 500 grams (1.2 pounds) of chicken thighs. You can use any chicken pieces you like.
I mixed up a marinade of:
250 ml (1 cup) milk
15 ml (1 tablespoons) Sriracha or Buffalo wing sauce
5 ml (1 teaspoons) salt
5 ml (1 teaspoons) sugar
1 egg
I mixed these ingredients together and put the thighs in to marinade for 3 hours in the fridge. I turned them a couple of times to coat.
While they were marinating I made the Yum Yum sauce. I mixed the following in a small sauce pan:
25 ml (2 tablespoons) chili sauce
25 ml (2 tablespoons) honey
25 ml (2 tablespoons) brown sugar
20 ml (4 teaspoons) ketchup
15 ml (1 tablespoon) minced garlic
8 ml (1 1/2 teaspoon) soy sauce
5 ml (1 teaspoon) sesame oil
5 ml (1 teaspoon) rice vinegar
3 ml (1/2 teaspoon) ground ginger
1 to 3 ml (1/4 to 1/2 teaspoon) Sriracha, optional
Put the pan over medium heat and stir until just bubbly. Remove from heat and set aside.
You can make this in a smoker or an oven. If doing in an oven, put the chicken on a rack over a tray. All other steps are the same.
I mixed the following flour dredge in a low casserole:
175 ml (3/4 cup) flour
5 ml (1 teaspoons) ground ginger
3 ml (1/2 teaspoon) salt
3 ml (1/2 teaspoon) onion powder
3 ml (1/2 teaspoon) garlic powder
When you are doing a chicken dredge, only use your left hand to take the chicken out of the liquid and your right hand to shovel flour over the chicken and take it out.
Take a piece of chicken out of the liquid with your left hand and put it in the flour mixture. Scoop flour over it and turn to coat. Put it on a plate in a single layer. Repeat with the remaining pieces.
Take the chicken on the plate to the left side of the marinade. Put a piece in the marinade with your left hand. Lift it out with the left hand and put it in the flour mixture. Shovel the flour over the chicken with your right hand and turn to coat. Put it on a plate and repeat with remaining pieces.
A note, since I did my
Double D "Fried" Chicken
several people with older smokers have got back to me. Their smokers have more radiant heat from below and cook the chicken faster than an oven or my Traeger Timberline which have a more consistent heat. So, when you cook the chicken, I will be recommending that you start checking at 20 minutes but understand that it can take up to 35 minutes for the chicken to be ready to be brushed.
Put the chicken in a 400 F (205 C) smoker or oven and cook. Start checking for a touch of browning on the edges of the chicken at 20 minutes. In an oven, it will likely take 30 minutes or longer.
Brush the chicken with vegetable oil and cook until golden brown and the internal temperature is 180 F or over. This will take from 15 to 30 minutes depending on the amount of radiant heat from your oven or smoker.
Take the chicken and put it in a large bowl. Pour the sauce over it and toss to coat.
Put the chicken on a plate and sprinkle 50 ml (1/4 cup) chopped green onion over it.
She Who Must Be Obeyed made a great vegetable chow mein to go with the chicken.
The Verdict
Don't make this. Really, don't make this. It is absolutely delicious and if you make it you will be addicted. The sweet, spicy sauce and the crispy skin are just incredible. I don't want to be responsible for you pigging out like I did.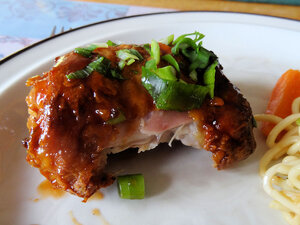 However, authentic Korean fried chicken, it is delicious! However, I do encourage you to try the original dish. It is even better.
Disco
Last edited: