1,637
401
Joined Nov 19, 2015
SmokinAl got me interested in converting my grill into a pizza oven when he reviewed an attachment for his Weber charcoal grill.
Trying Out My New Kettle Pizza Attachment
I wanted to do the same thing for my old Weber Genesis gas grill. I looked at the company that made his device, but the version they made for a gas grill was stupidly expensive ($250) and was nothing more than a sheet metal enclosure that sits on top of the grill. No stone, no thermometer, nothing underneath, etc.
To cut to the chase, after a LOT of research I ended up getting a pizza oven made by
Camp Chef
:
Italia Artisan Pizza Oven Accessory

It is the model PZ90 and is $120 on
Amazon
(click on the link or picture above), less than half the price of the other unit. The build quality is amazing: it is a lot of kit for that price.
Here's what it look like in real life: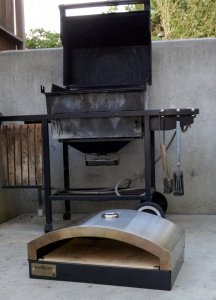 And here's what it looks like mounted on top of my Weber:
As you can see, it includes a built-in thermometer and a stone. The bottom, below the stone, is enameled sheet metal that protects the stone from direct flames. This is important when using it on the
Camp Chef
cooktop (it is designed specifically for their cooktops), where the flames are directly beneath the unit.
It is designed to be used with the front opening uncovered, but since my Weber normally cannot get much above 525º F, I found that I need to cover the opening with aluminum foil (I'll make a proper door for it some day). Using the aluminum foil "door," I can get the oven temperature close to 700º F. This is what the built-in thermometer shows. I also get similar readings off the stone with my point-n-shoot infrared thermometer.
I normally preheat my grill for about twelve minutes, but this takes quite a bit longer to come up to temperature, so I preheat for about twice that amount of time.
The opening is the perfect height, making it easy to slide pizzas in and out, and turn part way through. I have been cooking my pizzas for about four minutes, then turning, and cooking for another 3-4 minutes. At these high temperatures, it is no surprise that the cooking goes quickly.
It comfortably fits the largest pizza that will fit on my 14"-wide peel. I have also done two small pizzas side-by-side.
What about the result? In a word:
Fantastic!
It is a ten out of ten. I honestly don't know what else I would get if I were to have built or bought my own dedicated pizza oven. The crust is wonderfully crunchy, with a perfect char. The toppings get browned, without being burned.
Here are a few pieces that we didn't eat last night:
I used the Costco pre-cut fresh mozzarella which I just break into pieces and scatter over the sauce. That is what gives the pizza that "pools of cheese" look. I used a no-cook sauce I made from Tony Gemignani's absolutely fabulous
The Pizza Bible
cookbook. I have used dough from Safeway, from Trader Joe's, and my own dough. The Trader Joes dough is the best, but I'm going to try a recipe from that cookbook. I think that may top them all.
When using Trader Joe's pizza dough, the pre-cut fresh mozzarella, and the no-cook sauce, it takes virtually no time to create a homemade pizza.
I highly recommend this pizza oven.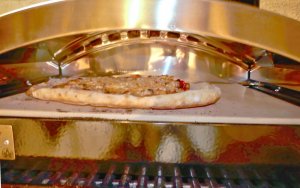 Last edited: