167
113
Joined May 15, 2011
My family (7 adults and 2 kids) is going to Blue Ridge for an extended weekend, and we've divided meal duties amongst different family members. As fun as it would be to run my 18.5
WSM
at our cabin rental, I don't think it would outweigh the pain of traveling with it in a Prius. I decided to smoke the meat ahead of time, vacuum seal, freeze, and hope for the best when I heat it up this weekend. I thawed a few racks of spareribs I was saving for a rainy day, and picked up a 3lb chuck and 5lb pork butt on sale. 7 pounds of pulled meat and 3 racks of ribs oughta feed that many...right? (That brisket in the left of the fridge is for next week).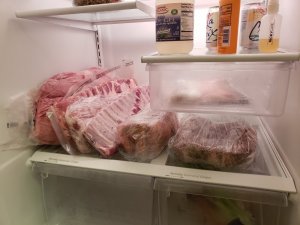 I used Meathead's Memphis Dust on the pork butt and ribs, and Big Bad Beef Rub on the chuck. Full disclosure, both of these rub recipes are off of Amazingribs.com and I just recently tried them - hope that's not too faux pas, but it's pretty good, and from there I can tweak it and make it my own.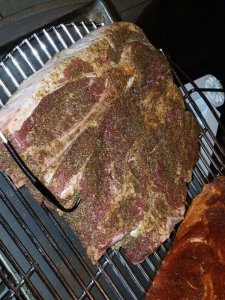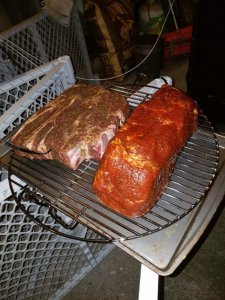 I got my smoker settled in at 260* around 10pm Tuesday night with the chuck and butt on the bottom rack, and trusted in my new Flameboss 100 as I went to bed. Got up the next morning around 730 and my temp had fallen to 200 as I was on my last bits of lump charcoal. Reloaded the charcoal ring after moving the embers to the center, and we're off again!
And on with the ribs - with the bottom rack taken up, and no rib rack, I knew it would be "tricky" getting 3 racks on the top grate. Luckily, the chuck was done by the time I had the ribs rubbed and ready to go in, so one went on the bottom rack with the butt.
3-2-1 ribs went perfect, and finished up shortly after I took the pork butt out. So, the chuck took 9+ hours, and the pork butt about 16.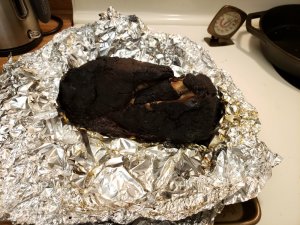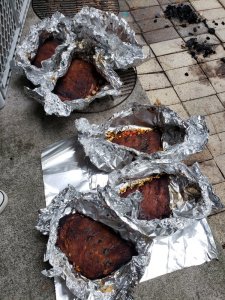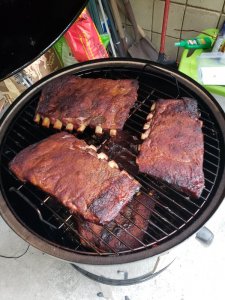 I made sure to sneak a rib before they got vacuum sealed and packed into the freezer. Perfect! If the rest of the meat is half as good this weekend, my family will be pleased, but here's hoping for better than half :)