Master of the Pit
SMF Premier Member
2,962
719
Joined Aug 13, 2015
We were out of Hot Italian and down to one package of Sweet. At GFS last week all they had left was one single pack of shoulder (I'm not really sure what kind of "butt" it was. The labels were contradictory). It was 10.5lbs so even losing the bone I figured I could get 2 -5# batches if I added some rib trimmings from the last St. Louis style I cut to. No way, after the bone and fat were out I only had a little over 6#, so the leftover pieces went on the Weber with some baby backs. I'll have to wait on the Sweet Italian.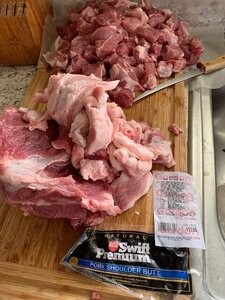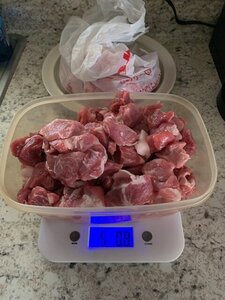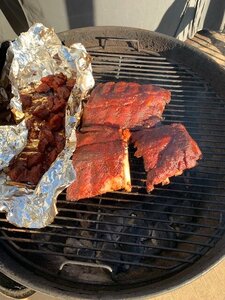 So I ground using the 1/8" plate..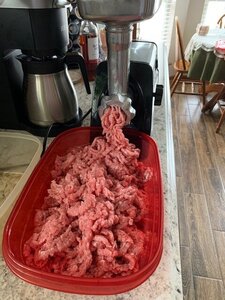 The recipe I've been using for the last year or so is:
5# butt
1 cup chopped fresh Parsley (dried smells like grass clippings to me)
5 tsp Morton Kosher salt
5 cloves minced garlic
1 tbsp Course Ground Black Pepper
2 tsp Cayenne
5 tbsp Fennel Seed
1 tsp Crushed Chili Pepper
5 tbsp Paprika
2 tsp Anise Seed
1 cup Red Wine or Sangria ( I used Zinfandel on this batch )
1 tsp #1 cure
I used to use more Cayenne and Chili Pepper but we got tired of waking up in the middle of the night burning up. It's still hot enough to make your head sweat ;-)
Thought about using a little SPC but decided against it.....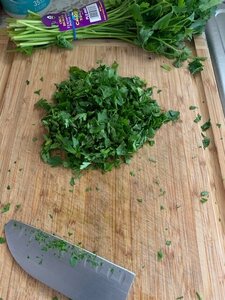 Mixer on High speed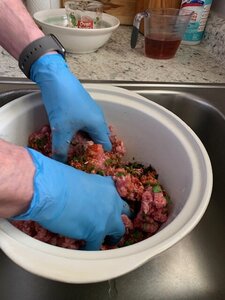 Let it coexist overnight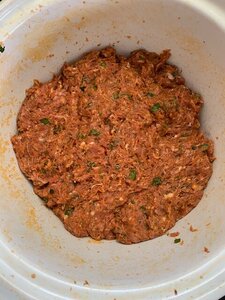 Next day time for stuffing!
I like the pre-tubed casings from Syracuse Casing
Measuring device
I'm a "twister". Just twist it a few times between links. I also stick the ends with a pricker to let air out.
And so on until you're done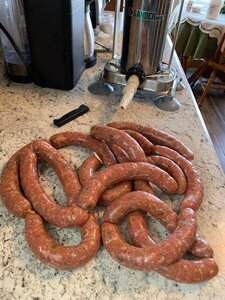 I like to let it air dry for 2 or 3 hrs (hence the cure) and I can check for air pockets. None in this batch.
This will sit in the fridge overnight before packaging. I like to get it a little bit frozen before vacuuming so the links don't get squished.
I package it in twos and there were 15 links, so we decided we'd have to try one tonight with leftover ribs. If I think of it I'll get a cut pic.
No promises ;-)
Thanks for looking and keep grinding!
Dan