Epic Pitmaster
OTBS Member
SMF Premier Member
★ Lifetime Premier ★
10,482
6,913
Joined Dec 14, 2013
Seems
SmokinEdge
had some influence around here with some recent threads he posted . Had to jump on the stuffed onions .
Mix was 1 1/2 pounds ground chuck and 1/2 pound ground pork cushion . Had the chuck in the freezer , but since he also influenced me to make some hot dogs I ground the pork fresh .
My son is a really good cook . Great with sauces . This is a Swedish meatball recipe he got from a cookbook he has . He understands something about adding moisture and mixing meatballs that I don't . His are always tender and moist . So I had him mix up the filling .
There's onion , peppers , fresh grated parm , eggs , bread crumbs soaked in milk and heavy cream . I think some Worcestershire sauce .
House smells great when he makes this .
Hollowed out the onions and stuffed with the mix . Wrapped one piece of bacon on the outside . Just to protect the onion a bit .
Cooked these on the new pellet grill . Been using it all week . I really like it .
Here's how it went .
Onions all stuffed and ready to go . Had an extra broiler pan that works great for the
pellet grill .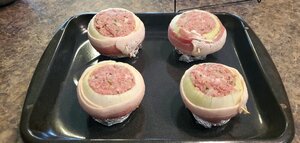 Made a foil ring to keep the onions plumb .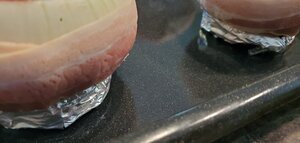 New grill ready to go . This thing heats up fast .
I started at 250 .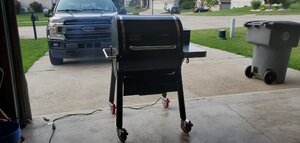 Already taking some smoke .
Coming along real good . Bumped the temp up to 375 .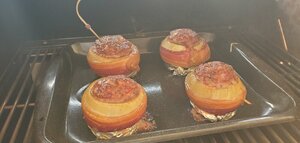 Gonna call these done . Temp is at 160 .
Pull and rest while he mixes the sauce .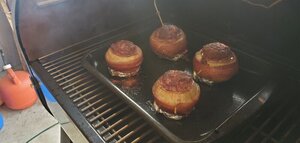 These took on just enough smoke . Nice color and flavor
That sauce he makes is addicting . Not sure what's all in it ,
but I know sour cream , Worsey sauce nutmeg and coriander .
Plated up with some egg noodles and homemade bread .
Had a hint of a smoke ring , If you're into smoke rings .
Tender and moist , these are so good .
These ate really good . Gonna be in the winter time rotation '
and I already asked him to mix up enough to do smoked meatloaf soon .
This was a fun cook and a good meal .
Thanks for lookin .