Epic Pitmaster
OTBS Member
★ Lifetime Premier ★
11,138
7,715
Joined Dec 14, 2013
I normally do loins with Tender Quick , but it's good to keep up with different ways to do things . So I went with the phosphate injection that I use on the butts and picnics .
I have also been wanting to try a spicy Italian style ham . Another reason I went with the phosphate injection . Now the injection is perfect the way it is . I was hesitant about changing it up . I weighed each section of loin separate and mixed up the veg stock , stpp , salt , sugar and cure one for each piece . Did one with the stock injection . To the other one I added some Franks red hot and I ground up some fennel , anise and dried basil . Mixed that into the liquid and injected as much as it would take . Poured the rest in the bag . Pulled and rinsed on day 12 of the cure . Dried off and back in the fridge over night to dry the surface .
Next day I ran the smoker at 200 for an hour . Then reset to 120 . Hung the hams . Had a unopened bag of Pit master's choice pellets from Todd . Used those in a 12 " tube in the mail box .
Whole loin from freezer stock .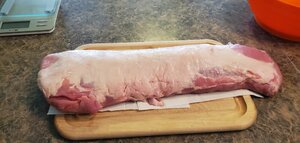 Cut into 3 pieces . Vac'd one back up and re-froze .
No trim on these . Normally I get rid of the fat .
This is after cured and dried in the fridge .
The one almost looked like a picnic . I put it in a bag .
The other got a size 28 net .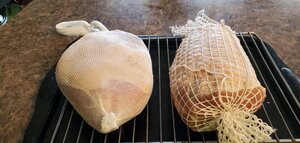 Into the gen 1 MES 30 . Almost 8 years old now . Added a PID and just replaced the element .
Love this thing .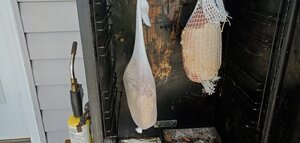 Let them ride at 120 for 4 hours or so . Then stepped up to 140 . I just let it go until the tube stopped smoking .
Got right at 7 hours of smoke from the tube .
Internal temp was around 125 . Bumped smoker to 200 . Finish temp was 145 . In the smoker about 12 hours total .
Took on some good color . Perfect smoke on these . The net section will be vac'd and frozen .
Then double smoked and glazed at a later date .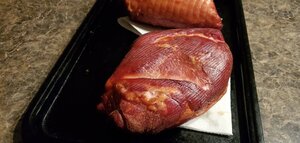 The other will be sliced for sandwiches . This is the one that got the added hot sauce and Italian seasonings .
I have to say it's fantastic . You can smell the fennel and anise . Just a touch of heat . More flavor from the Franks than heat really .
Man it's good . The veg stock and the Franks leave some color at the point of injection if you slice thru it . So moist . Great flavor ,
but the added spice is really good . Just don't change the base injection ingredients or amounts .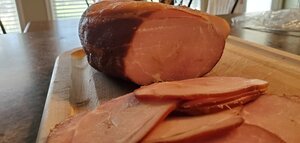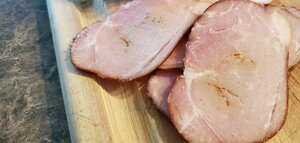 The Italian seasonings are a keeper for sure . Might sub something else for the franks , or just leave it out .
Thanks for lookin .