Epic Pitmaster
Original poster
OTBS Member
★ Lifetime Premier ★
Dec 14, 2013
14,560
12,496
Posted a thread the other day about double smoking a loin , and made a BBQ ham sandwich from it . Came out really good , so drove to the bottom of the freezer and found another one . Was home alone yesterday , so did this for my supper . Used apple pellets with the tube , in the mailbox of the MES 30 . Pre heated to 250 for an hour , then backed down to 180 . Let the loin get some smoke , then bumped temp to 200 to let it get back to 145 . These come out really good .
Out of the freezer .
Nice fat cap on this one . This was cured using
TQ and

Bearcarver
steps as a guide . It smells fantastic
just like it is .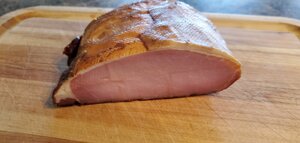 Scored the top , covered with brown sugar and honey .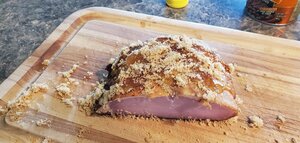 Small pan of beans to go in the smoker with the loin .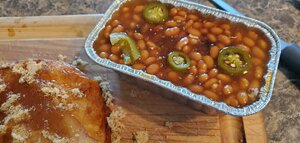 Cut up some taters with minced onion flakes , butter and black pepper .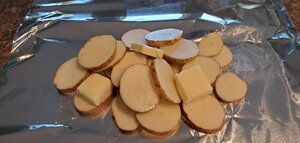 Rolled up in some foil and in the 360 air fryer @ 375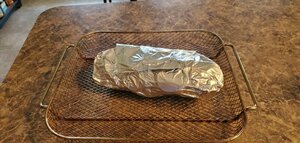 While everything was cooking , I made a sauce to server on the pork
at the table . This is what I used , along with brown sugar and a 1/2 cup of BBQ sauce .
Sauce came out great . I boiled the bourbon off first .
Turned the heat down and added the sugars .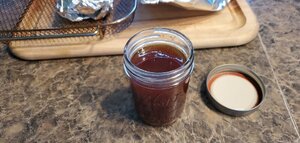 Loin out of the smoker . Smells great .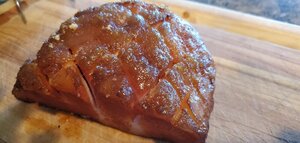 Beans have a great flavor , but to wet .
Put them on the stove and cooked them down a bit .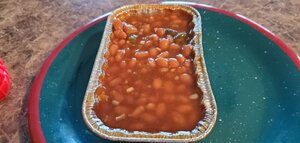 Everything's done , lets get to eating .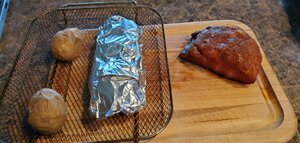 Took a couple slices of loin ,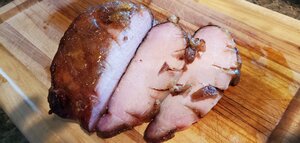 Plated up the rest . Some of the sauce ran into the beans ,, really good .
Those taters come out great too . I like them on the grill , but the 360 makes it easy since I didn't have
the Kettle
fired up .
Pork loin cured and double smoked has moved way up my list .
Thanks for lookin .