Master of the Pit
SMF Premier Member
4,038
1,551
Joined Aug 13, 2015
Good afternoon!
A few days ago I posted about seasoning a Wok for my KUDU grill. Finally got a chance to try it out.
We picked a recipe called "Korean Barbeque Beef.
Mixed a marinade of:
1/3 cup lower sodium Soy Sauce
3 tb white sugar
2 tsp Sesame Oil
2 tsp Sesame Seeds
2 tsp Minced Garlic
1/4 tsp Red Pepper Flakes
1/4 tsp Course Black pepper
2 sliced Green Onions (Scallions for you fancy folks)
Sliced up 1# of Ribeye and about half of a Vidalia and put them in the marinade for about an hour and a half.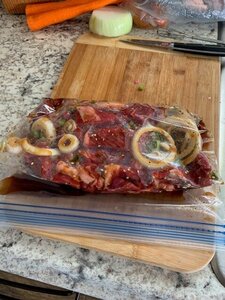 That .98# of Ribeye was $19.79 folks. It's getting ugly out there.
Got a fire going. added a little oil and cooked the carrots (2 thinly sliced) about 4 minutes.
Took off the Carrots and cooked the Beef/Marinade a bit in 2 batches until it looked done, then threw it all together
to stir up until done.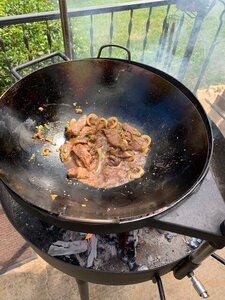 Plated with Rice and thin sliced "Scallions".
This was my first stir fry and Wok cook, but we were both impressed.
It was also the first cook I've done in a while where there weren't any leftovers LOL!
This isn't an "easy" meal. Lots of fine slicing and once you start you have to keep on it. No dilly dallying.
We're already looking at recipes for the next one, but steak won't be involved :-)
Thanks for looking and keep trying new things.
Dan