43
23
Joined Nov 23, 2017
Well the holidays are over and so are my recent smoking adventures. I was able to try some new things to smoke, as well as mod my MES with the mailbox mod and
AMNPS
. I am still slacking on getting pictures at different stages but got a couple throughout different smokes.
Christmas Eve, had a family get together with everybody bringing a snack or appetizer. I decided to smoke some baby back ribs and helped the old man make some vension meatballs with a jalapeno and cheddar cheese sauce. Both items were a huge hit and turned out great. This was only my second time doing ribs in the smoker and they turned out pretty much perfect. Very tender and juicy but not quite fall off the bone. I rubbed these down the day before smoking with a nice southern storebought rib rub and some mustard to help hold the rub. Smoked the next day at 225 for ~2.5 hours, pulled and foiled with some apple juice and bbq sauce for another ~2.5 hours. I then pulled and let rest for 15-20mins before allowing to cool to room temperature. I then cut the ribs into 2 rib chunks, sauced and placed back in a foil pan. This allowed me to bring it to the party to heat and serve there.
After smoking and resting.
Cut up and sauced.
Ribs, Venison Meatballs with Jalapeno & Cheddar Sauce.
Leading up to the holidays, I really wanted to modify my MES to be able to cold smoke. I was originally looking at the popcorn tin mod, but being in Canada, the very cheap tins end up being more than a mailbox by the time you add the exchange, shipping, duty etc. I was able to get a mailbox from Canadian Tire for around $25, a couple aluminum elbows and flexpipe from Home Depot and some Flue tape. This turned out to work very well and after some little tweaks, I was able to get TBS rolling with little supervision.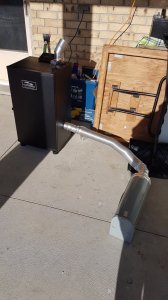 MES with mailbox mod.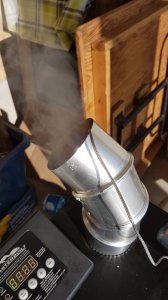 TBS rolling.
This allowed me to smoke some cheese for the first time. Even though it was -20C (-4F?) I still had to fight with the smoker to keep temps between 50-75 F. I originally started out with the
AMNPS
inside the MES, but ended up hooking up the mailbox mod in order to keep temps lower. I bought some gouda, asiago, 2yr old cheddar as well as some Jalapeno Havarti. I smoked half the cheese for 3hrs and the other half for 4 hrs. Rested for a couple hours on the counter before packaging in saran wrap and ziploc bags(no vac sealer yet). I am fighting the urge and trying to wait at least two weeks before sampling any.
Colour after 3 hrs and resting on the counter.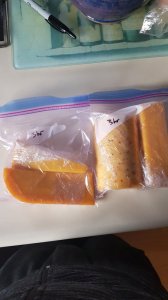 Packaged up ready for the fridge.
The next day, a good friend of mine wanted to try a variety of smoked items. I ended up doing another 2 racks of baby back ribs, a flattened chicken and some mac and cheese. This was my first time smoking chicken and mac and cheese. Both seemed to turn out pretty good although the "bark/crust" was a little thick/tough on the mac and cheese for my liking. Ribs I did the same way as on Christmas Eve, except this time used a mango chipotle seasoning for the ribs cut with some brown sugar. The flavouring from the rub turned out great and I will definitely be using again in the future. The flattened chicken was already seasoned, so I just patted dry and smoked as-is. The mac and cheese, I partially cooked the pasta 5-6 mins, before adding a cheese sauce and some additional cheese. I cooked this for the last 2 hours.
Finished results
Hope everybody had a great holidays and got to do some smoking with family and friends.