78
31
Joined Aug 28, 2011
Got an MES-30 digital a couple of months ago and I am
loving
it. With my ECB, smoking used to be equal parts anticipation and dread, with eight hours of stressfully checking the temps every five minutes to make sure nothing was going wrong (in either direction), but electric... I know it's cheating, and I've got a real respect for the charcoal fired guys, but I live in a small apartment and smoke on my balcony.
Anyway, ordered some baby back ribs from The Meat Guy and used some basic rub I had leftover from another project. Cooked them 2-1-1 on a steady 250F with some bourbon in the foiling stage.
Rubbed and ready for wrapping overnight in the fridge: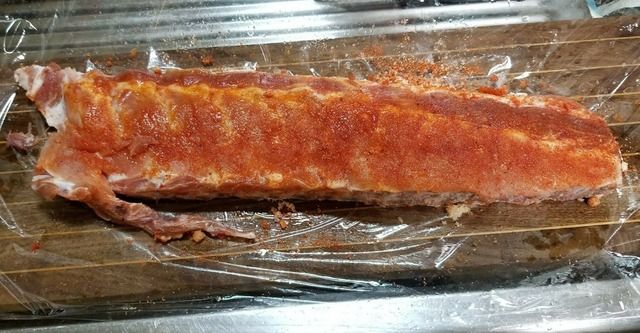 Ready to go into the smoker the next day. The light blotches are some brown sugar clumps in the second coat of rub I put on: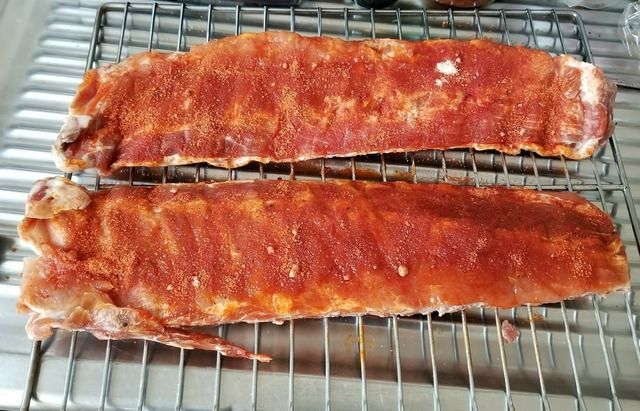 Out of the smoker, four hours later: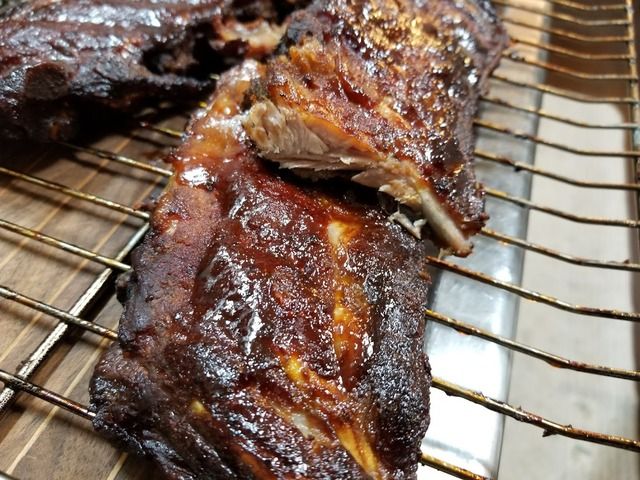 Served with twice-baked smoked potatoes (description below) and cole slaw from KFC: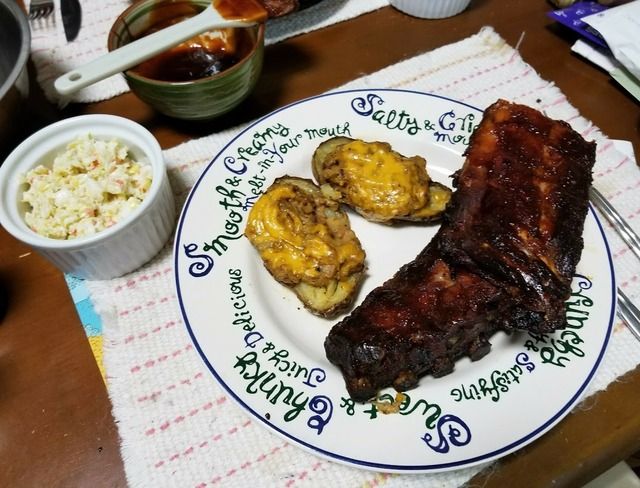 These were good. Not amazing, but pretty darn good. They weren't dry, but could have been more moist to my liking. Not falling off the bone, but coming off easily. I didn't use any water in the pan, just foiled it for easy cleanup, don't know if that would have helped or if I just need to take the time down a little, suggestions are welcome. The BBQ sauce I used was some store-bought "Kilauea Fire" stuff which I like, but I will need to learn to make my own in the near future.
*Potatoes:
Two regular potatoes, washed, dried, poked with a fork, then coated with EVOO and The Meat Guy's Stake Spice, which is a combination rub/season salt-ish stuff of garlic, cayenne, paprika, and such. Put on the top rack of the smoker (ribs were one down) for an hour and a half of so, under smoke, at 250F. When the ribs were due for foiling, I pulled the potatoes, which were cooked but still a little stiff, so I chucked them in the microwave for four minutes. While that was going on, I fried up just a bit of bacon in very small pieces (bacon I made doesn't get crumbly for some reason). Shredded maybe a cup (end result) of sharp Irish Cheddar, diced up a tablespoon-full of regular pickled jalapenos, and a single, thin slice of red onion, diced fine. Reserved about half the cheese, and put all the rest together in a bowl along with the insides of the potatoes and a couple tablespoons of unsalted butter. Added some table salt and ground black pepper and used my electric mixer to make mashed potatoes, adding a little regular milk to loosen things up. Spooned the mixture back into the potato skins, put the rest of the cheese on top, and put the potatoes back into the smoker (no smoke) for the last hour or so of cook time the ribs had left. I'm sure there's room for improvement, but it came out well.
Thanks for looking!