17
26
Joined May 11, 2016
Greetings everyone,
On Sunday, the lady and I decided to smoke something spur of the moment while we were out getting a couple items for dinner. We were in Aldi, and their cuts of meat change periodically, and I decided to see what they had.
They had a pre-marinated Chuck Roast that was Bourbon Brown Sugar. It was a small 2.37 lb, and I knew would not take too long in the smoker (including resting time), and since I didn't have time to marinate it, I grabbed it.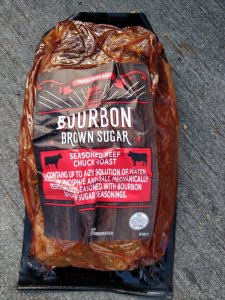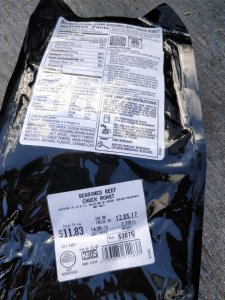 I got home fired up the OK Joe and brought it up to about 275 then threw the chuck on to sit for a bit: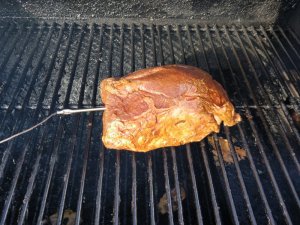 I kept the temp between 275 and 340 until the inside temp reached 160 and it had a good visual bark: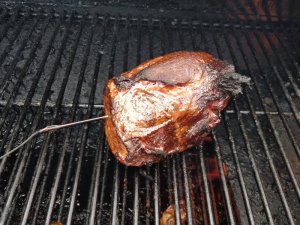 I took the Chuck off the smoker, wrapped it in two layers of foil, and put it back on the smoker to keep the temp climbing: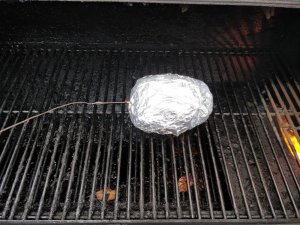 I kept the temp right around 275 for the foil-wrapped Chuck until the internal temp reached 203. I then pulled it off, wrapped it in two blankets, and placed it in a cooler to bring the temp down slowly. When I was wrapping it in the blankets, there was a lot of 'juice' coming out of the hole in the foil where the temp probe was, so I took that as a good sign.
After resting for a little over two hours in the cooler, I took it out and unwrapped it to have my first look at the finished Chuck Roast: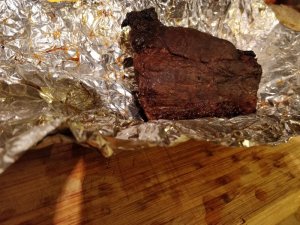 It looked and smelled delicious, but seemed a little firm to the touch. As I started to carve it, I noticed a good smoke ring, and color: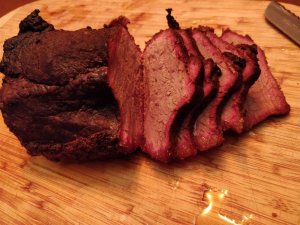 It did not look as juicy as I hoped it would and as I continued carving it and tried my first piece, my fear was realized, it was DRY!
It had a delicious flavor, and was not too tough, but it was very dry.
I'm not sure if I went too hot for such a small piece, or if I did something else wrong, but my first Chuck Roast was not a success.
Any suggestions for my next try at a Chuck would be appreciated.
Cheers,
Morgan.