Smoke Whisperer
Staff member
Administrator
OTBS Member
4,969
178
Joined Jun 28, 2005
Summarized version of the recipe:
Use a spiral sliced ham (I got mine at Costco for $2.29/lb)
Place the ham into a shallow pan.
Peel back each and every slice and douse with maple syrup and my original rub..(if you have another barbecue rub that you like and is low on salt, that will work too I suppose.)
Smoke for 3 to 4 hours at 225°F (I used pecan wood for smoke)
Glaze about every hour with more maple syrup and rub (½ cup of maple syrup and 2 TBS of my original rub)
When you're all done, remove the slices into a serving tray and pour all of that extra smoky sweetness on top and serve.
If your guests don't go gaga over this, then they should not get invited back next year
Full Version

Helpful Information
Prep Time: 10 minutes
Cook Time: 3 hours
Smoker Temp: 225°F
Meat Finish Temp: 115-120°F
Recommended Wood: Pecan
What You'll Need
Spiral sliced ham (mine was a 10 pounder)
REAL maple syrup (you can get this cheap at club stores like Costco)
Toothpicks
What Does "Double Smoked" Mean?
I get this question a lot so I figured I'd tackle it right up front– the company that produces the hams have their own process for adding smoked flavor to ham and it's not bad but what we can do in our own smoker is far superior to what they can do on the production line.
Thus when an already smoked or smoke flavored ham is smoked again by you, it's smoked twice or double-smoked.
Step 1: Maple Syrup and Rub
I recommend sitting the ham in a shallow pan.
Peel back each slice and douse it with maple syrup.. go ahead, be generous and live a little!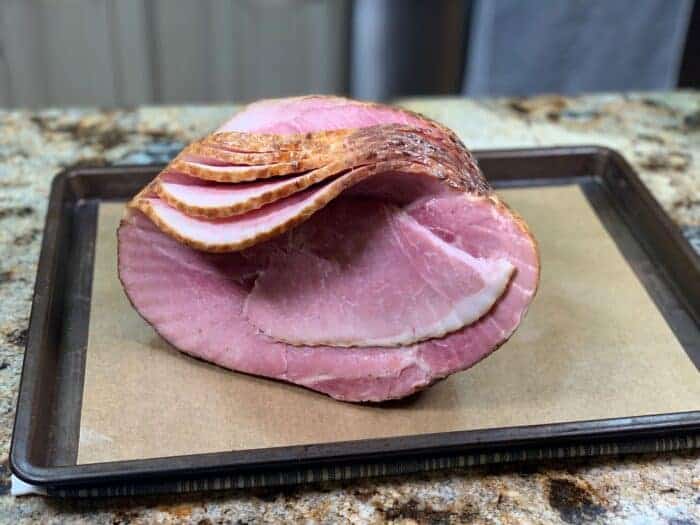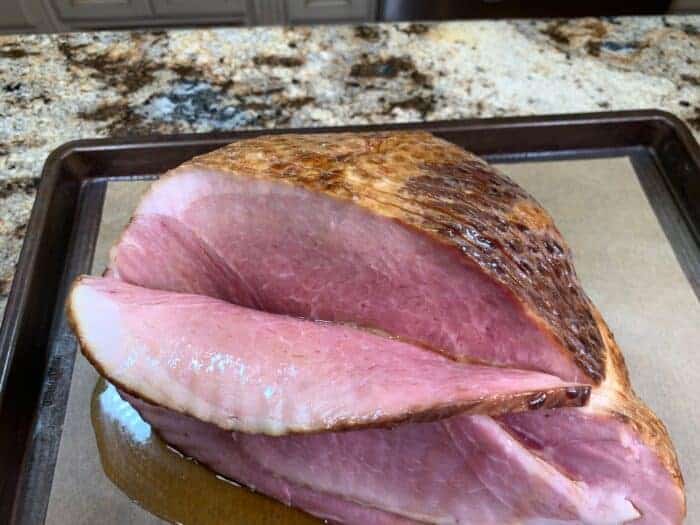 Don't worry about the waste.. that maple syrup that runs down to the pan will mix with the rub and we'll pour that over the ham slices later.
Once every slice is nice and sticky, go back through and peel back every slice giving it a good application of my original rub.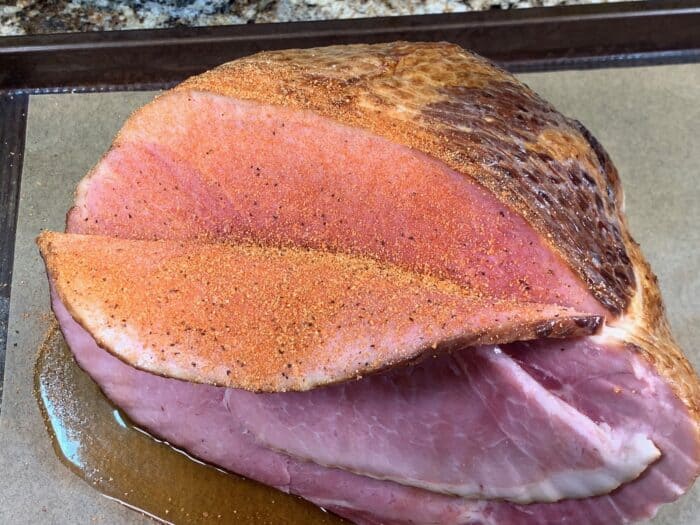 Don't forget to get that very front piece and the sides and back of the ham as well.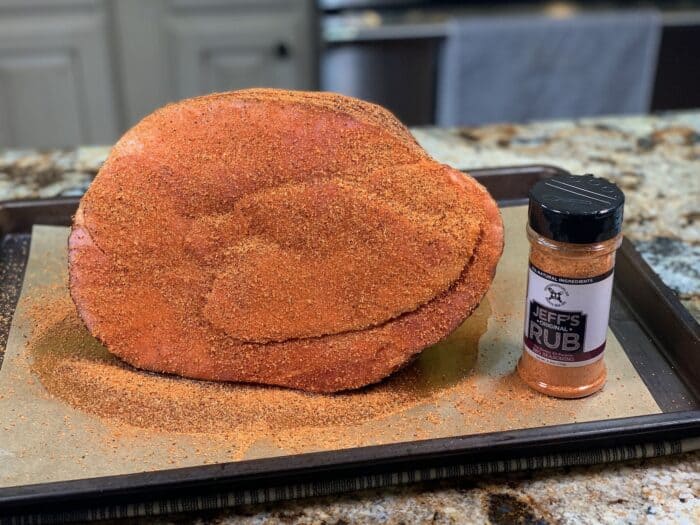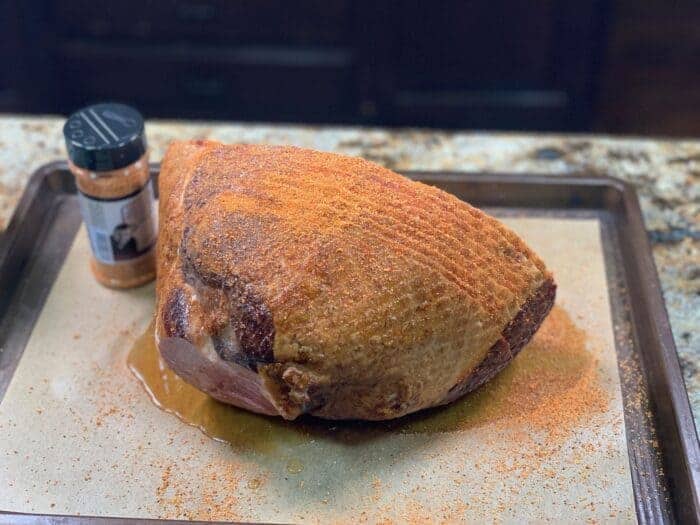 As the ham cooks, the slices will sometimes fall over so it's a great idea to pin them in place with some toothpicks.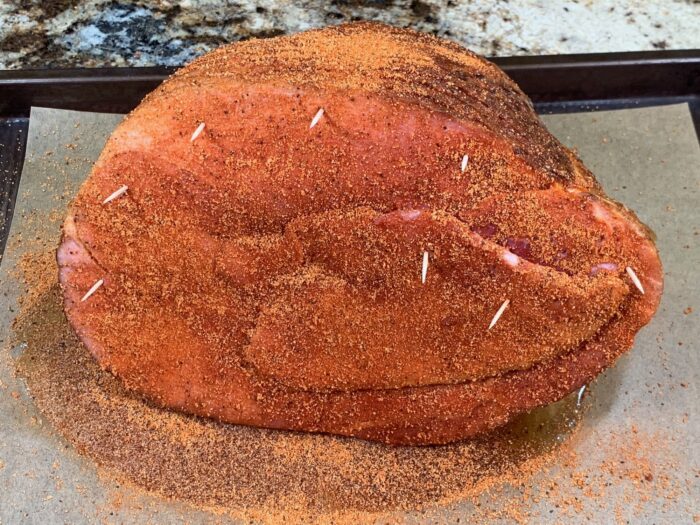 The ham is now ready for the smoker.
Step 2: Smoke It
Any smoker will work for this and it only takes about 3 to 4 hours depending on what temperature you are running.
Remember you are not cooking the ham, only warming it through and letting the smoke kiss the ham for a few hours.
Setup you smoker for indirect cooking at about 225°F and my recommendation is to use pecan wood for smoke if you have that available. Otherwise, any smoking wood will work.
If your smoker has a water pan, fill it up.
Place the pan with the ham on the smoker grate and let it go for about 3 to 4 hours.
Make up a batch of ham glaze as follows: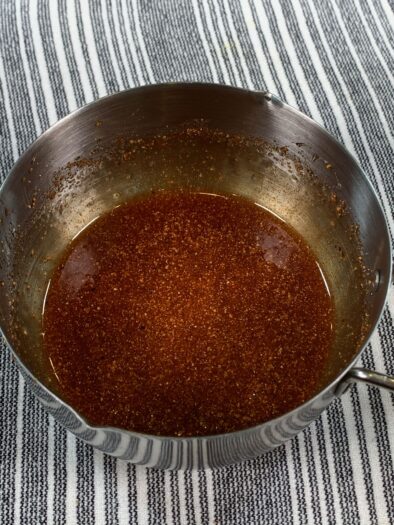 About once every hour, go out there and glaze the outside of the ham with this stuff. You don't need to peel back the slices, just the outside will do.
Step 3: Slice and Serve
When the ham starts to get some nice crispiness to the edges or when you can no longer stand the amazing smell without taking a bite, call it done.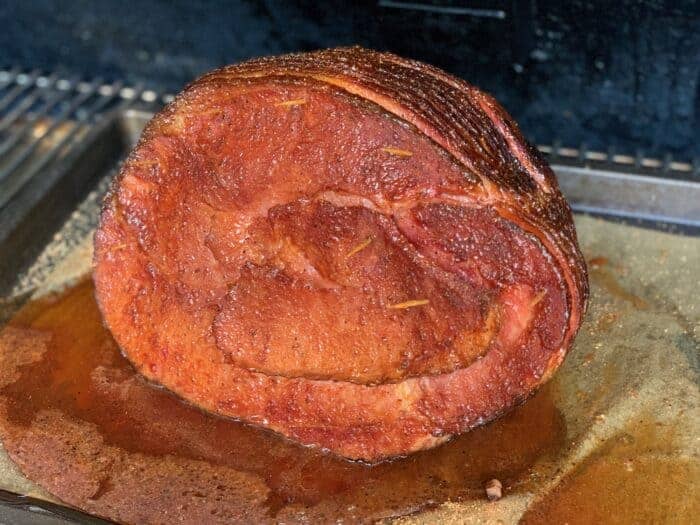 Remove the toothpicks and tear the slices off into a serving plate.
See that smaller piece right in the front middle? Tear that off and share it with your honey.. it's the best piece in the whole ham!
All those sweet and smoky juices in the pan can now be poured over the top of the slices.
Serve and enjoy!
Notes and Comments
I've had people ask if you can use honey on this.. the answer is YES. Also very good!
Another question I have received when talking about this method is "can you lay the ham flat side down?". Well you can but in my opinion the smoke is not able to get in between the slices as well and you can tell it in the finished product.
Last edited: