Legendary Pitmaster
OTBS Member
SMF Premier Member
★ Lifetime Premier ★
7,830
4,203
Joined Dec 14, 2013
Used what was left from the beef knuckle I posted to other day to make some sandwiches . Pretty straight forward . Did this a little different . I normally use heated beef stock to warm the meat . This time it all went in a cast Iron skillet .
Got the rest of the roast sliced up , then covered in the fridge while getting the rest ready .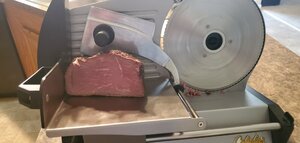 I get a " take and bake " bread from the store . Great stuff . I did it in the 360 air fryer .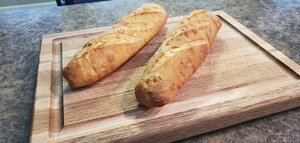 Onion , green bell and some Cubanelle peppers from the garden .
Sliced up and in the pan . I had a couple TBSP of butter in there , and go medium heat .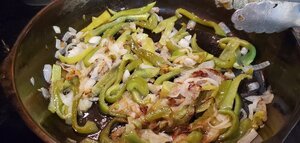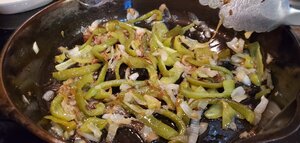 I get the bread ready , Cut in half then rip down the length , but not all the way thru .
I put a slice of provolone on the bottom to help hold the juice .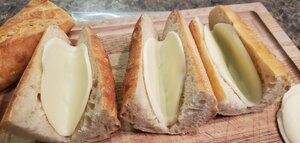 Meat in the pan with the peppers to warm a bit .
Then I stack it together with some more cheese .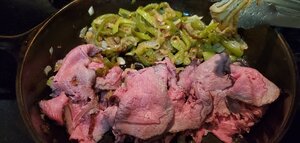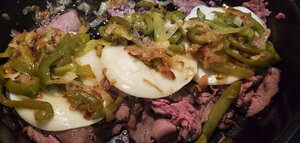 I turn the heat up on the pan for a couple minutes .
Then add beef stock and a lid to catch the steam .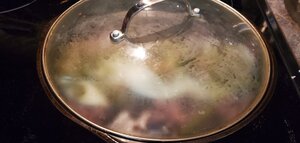 Did the fries in the air fryer . Come out great . I use that 360 everyday for something .
So useful .
Plated up , then pour some of the pan juice on the sandwich . The cheese on the bottom
and the crusty bread soak it all up .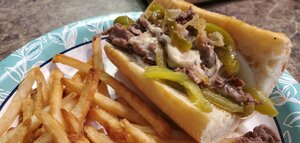 Getting some good used from the beef knuckle . This was the second meal , and froze another couple pounds of the slices .
Thanks for lookin .