Master of the Pit
OTBS Member
SMF Premier Member
4,375
1,133
Joined Dec 13, 2017
Yeah, trying my first rib rack via the MES 30, with Hickory smoke.
Woke up at 5 AM with my smoked cheese on the brain. Got the overnight load of cheeses out, out and it was ready to bundle up at a nice cool 41 degrees.
That done, and things cleaned up, my mind turned to the ribs of yesterday...
Twas 8:40 AM... (08:40 Hrs)
I got a good deal on some meaty Baby Backs yesterday for $2.78 a pound (down .20 from usual). So impulse buy. Never miss a good deal, besides, that's why we gave each other a chest freezer for Christmas.
So I held out a rack for myself, since I'm batchin it till Sunday anyway. I halved and froze the other two racks per usual.
Great day to run a recipe trial. So got the smoker warmed up, while I prepped my ribs. I cut my full racks in half, makes them much nicer to handle for me. And laid the halves on a single rack with my new meshes.
Then in she goes. Set my handy dandy phone timer to keep me honest, and the TBS is drifting in the mornings cool breeze.
Green Beans, and boiled potatoes, as my sides. Come on 3 PM!
Apparently nobody wants me to mess with my regular rib cookin, so this I'm doin for me.
Me, Myself, and I... And if it turns out bad, well, I can talk to the guy in the mirror. :rolleyes:
I like smoke, the rest don't. So :p, eat Wheaties.
Grandpa is at play... :)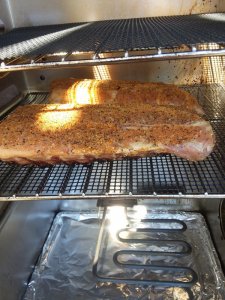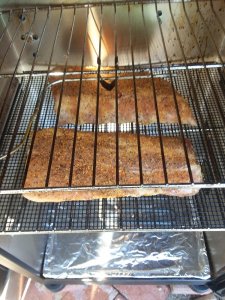 Oh, and um, Yesterdays cheese night run...
(Just the start...)