Epic Pitmaster
Original poster
OTBS Member
★ Lifetime Premier ★
Dec 14, 2013
14,629
12,611
Mixed this up on 8/23 . Used the Len Poli formula as a guide line . Added some ground caraway , white wine and dextrose . 50 mm bags .
Used 2 lbs of chuck roast and 3 lbs of pork butt . I actually cut the fat cap side out of the butt and made some BBB .
I made a rack to hang the umai sausage on . Works great . I hang it and move to the basement for 72 hours . Stays 65 to 70 degrees down there . After fermentation I just move the whole works to the fridge .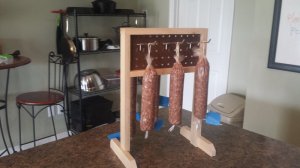 After 24 hours it didn't have much color change , but the smell was good .
After 72 hrs , went into fridge color was good .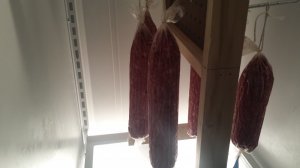 They were 35 percent at 15 days . Shrinking away from the bag .
I want to get to 40 % , but I had to cut into one .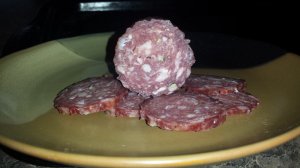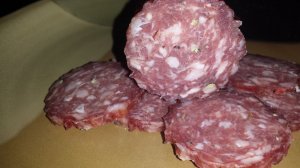 Been about 3 weeks for the rest . Squeeze test says they are done .
Haven't weighed them yet . Think I'll skip the weigh in and pull them tomorrow . I all ready know they were 35% last week . This was my 4th time doin this , and by far the best result .