Epic Pitmaster
OTBS Member
SMF Premier Member
10,881
4,839
Joined Oct 31, 2012
A couple of weeks ago, the temperature dropped here in the Canadian Rockies. It was time to smoke cheese! Last year I didn't do enough cheese and I was totally out!
I wanted to try a different smoke. I have always thought that oak whiskey barrel smoke has a medium but true smoke that would be good on cheese. So, I loaded up my A-Maze-N with pellets and put it in my pellet smoker with the smoker turned off. It was about 6 C (43 F) so I wasn't too worried about the ambient temperature.
I had havarti, old cheddar and extra old marble.
I ran the smoke for 3 hours.
I brought the cheese in and let it cool and sealed it in vacuum bags.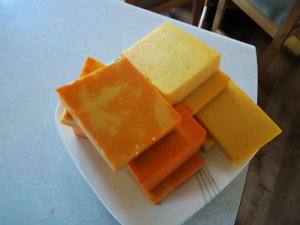 It is 2 1/2 weeks ago that I smoked the cheese and today I opened a package and had a snack.
The Verdict
I really liked the smoke from the oak barrel. It has a definite smoke hit without being sharp. I recommend it for you to try in a cheese smoke.
Disco