684
692
Joined Sep 28, 2018
Been seeing PBBE's on here and decided to make some for a men's Christmas party.
Started with a 5 lbs Pork Belly (skin off) that I found for $1.88/lb. I cubed them a little smaller than most I've seen because I wanted them to go farther at the party. About 1"x1".
Seasoned with a little BBQ rub and tossed em up to coat every side. Arranged the little nuggets on the MES30 and lit my AMZNPTS with Applewood pellets.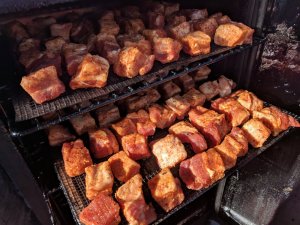 Smoked 'em at 250°-275° for 3 hours, until the color was where I wanted them.
Removed them and arranged them in an aluminum pan. I then covered them with a stick of butter, a couple of handfuls of brown sugar, and a good squirt of honey. Wrap 'em tight with foil and back in the heat.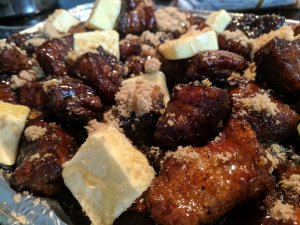 After 1 hour and 15 minutes in the braising liquid, I removed them from the liquid and put them in another aluminum pan. I then drizzled them with a Dr Pepper Huckleberry glaze. The glaze consisted of my 10-2-4 BBQ Sauce, more Dr Pepper, and Huckleberry Jam. (I canned the jam this summer after a great huckleberry harvest).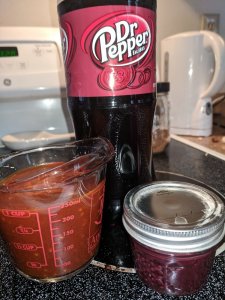 I didn't really measure anything out for the glaze, but this will get you a nice glaze if you're making your own:
1 c. BBQ sauce
1/4 c. Dr. Pepper
1/4 c. Huckleberry Jam
Combine everything in a pan and heat on medium to med-low until everything is blended and smooth. Pour over your burnt ends and give 'em a toss to coat everything.
15 minutes back in the heat uncovered and they glazed up really well.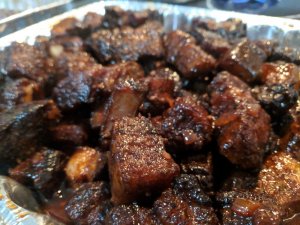 I think this is how you know you nailed it.
Last edited: