Smoking Fanatic
OTBS Member
675
578
Joined Sep 20, 2018
Happy New Year Y'all! We had a small shindig so I decided Pork Butt would be a quick easy cook. Then I decided I wanted more Pork Belly and that lead to also wanting to try the Pork Belly Braid, cause why not!? The following ensued...
Cook Details:
Date: 12/31/19
Meat: Pork Butt (Bone In), Pork Belly 2 ways
Rub: Pitfaced BBQ On Point
Cooker: Pitts & Spitts Maverick 1250
Pellets: Pecan
Temp: 250°F
Cook Time: Pork Butt - 12 Hours PBBEs - 3 hours Pork Braid - 4.5 Hours
Sides: Scratch Mac & Cheese and Pulled Pork Sauce
Pictures (Comments on top):
Pork Butt on the pit with Pecan Pellets in the hopper and smoke tube
Put into a pan to catch some renderings (left uncovered)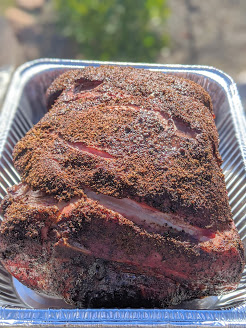 Pork Belly Cubed
Pork Belly Braid Prep
Each strand was coated in wooster sauce and full rub coverage prior to braiding. Ends held with toothpicks.
Everyone on the pit!
Bone pulled clean around 203 internal
Pork Pulled and some pan renderings added back in
Pork Belly Burnt Ends Straight up, no glaze this time
Pork Belly Braid!
Pork Panned and Mac & Cheese ready
Incoming Bear View! Wipe Your Feet

Bearcarver
lol!
Butter Toasted Ritz Topping
Pulled Pork Sauce
Bottled
Plated
Final Thoughts:
It had been awhile since I've done Pulled Pork and I needed to rectify that. Overall this was a pretty straight forward cook. No glazes, spritz's, or wraps, Just smoke and time. And probably a little booze on the side for the cook
. I was rel happy with how everything turned out. The re-added renders from the butt back into the final product was delicious! so much flavor and moisture. The sauce is not necessary but gives an added zing from the ACV base. The PBBEs were standard. More of a snack so I left them straight up. Really enjoy them.
Now for the Braid... I had seen it posted on here awhile back and a few other places and never remember to ever try one. I needed to fix that. Prep is pretty straight forward. While I had the three strands split up I made sure to cover each leg in full before braiding to ensure maximum flavorization! I did have to bring the wife in cause I'm not an expert at braiding. One quick lesson later and I had it all wrapped up and skewered to hold the loose ends together. Once it was done I just cut 1/4" slices. I thought they would be just like PBBEs in flavor and texture. Way wrong. The folded up layers obviously increased the surface area and it rendered slower as a result compared to the Bites. The texture was awesome! A little more fat and bit to it. I really enjoyed it and will be doing again!
It was a great meal and a great night with some great people. On to the next meal!
Cheers Y'all!
TL;DR
Pork Three Ways