Master of the Pit
Original poster
OTBS Member
★ Lifetime Premier ★
Brined a couple of cornish hens Saturday evening for Sunday afternoon supper.
Brought a basic one gallon brine recipe to a low boil, then added in a few aromatics like sprigs of fresh thyme, rosemary, chopped garlic cloves, a handful of black peppercorns, and wedges from half an onion.
Removed brine from the heat and added in orange and lemon wedges, a 1/4 cup thawed OJ concentrate, and one bottle of beer.
Let everything steep in there while the brine cooled down to room temp.
Once cooled, I carved out some space in one of the freezers and placed the stainless steel brine pot in there to chill down to 38° F.
Added the hens to the brine, weighted them down with a glass lid, and placed the whole concoction in the fridge for six hours.
After six hours, I rinsed the hens with running water then patted them dry with paper towels.
Next, the hens were placed on a rack with a cookie sheet underneath.
They sat in the fridge overnight to form the pellicle.
Late Sunday morning, I worked some fresh sqeezed OJ under the breast skin and into the cavity of each bird.
Then stuffed the cavities with one sprig of fresh rosemary, three sprigs of fresh thyme, onion wedges, and of course, the left over orange wedges.
Next up, the wings and drums were trussed, the outside of the birds were rubbed down with a splash of EVO, drizzled with balsamic vinaigrette salad dressing,
followed by a light dusting of herbs de provence.
Here is what they looked like when they were first placed on the grill at 325° F with a mix of pecan and cherry chips in the smoker boxes.
Here they are again after about 45 minutes or so.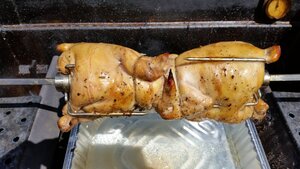 At 180° F in the thigh.
A quick shot before a loose tin foil tenting and resting.
Plated with a side garden salad and a wildrice mix topped with freshly grated parmesan cheese.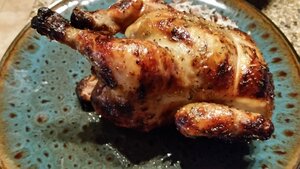 The verdict:
Nice and juicy. Excellent flavor. Savory with a very slight hint of orange. But a tad salty.
Maybe I left them in brine too long?
Maybe I did not rinse them as throughly as I thought? Afterall, it was going on midnight when I pulled the hens from the brine.
Or maybe I am just so used to this damn low sodium diet?
I am going with the third "maybe"!
Thanks for looking.
Bon appetit.
Stu