Legendary Pitmaster
Original poster
OTBS Member
SMF Premier Member
Mexican Shredded Mesquite Smoked Chicken Stuffed Peppers
Smoked a chicken , this time I did not brine or inject, But coated it really heavy with Mesquite BBQ rub from one of the packages I received a while back.
In the smoker with Mesquite chips and chunks and a few pellets.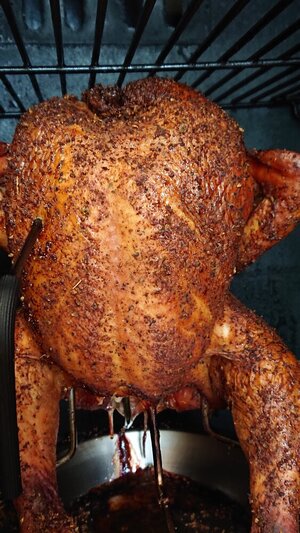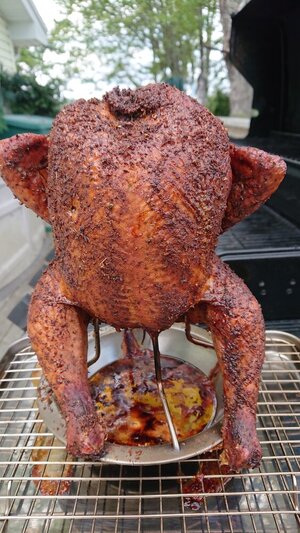 Did its time in the smoker , and still nice and juicy skin on the bird
Went into the smoke fridge ( not allowed to use the house fridge anymore
) for couple days as little busy at work.
Brought it out and shredded most of the bird , saved a little for an other time, not sure what yet.
So shredded and into the ci with some canola oil to get the edges of the chicken nice and crispy , then in went all the good stuff.
canned diced tomato, 3 Chipotles in Adobo sauce chopped small , Ancho Chili Powder, oregano, cumin powder, and onion powder
little bit of tomato paste. Stir all so well blended, Add salt and black pepper and touch of sugar.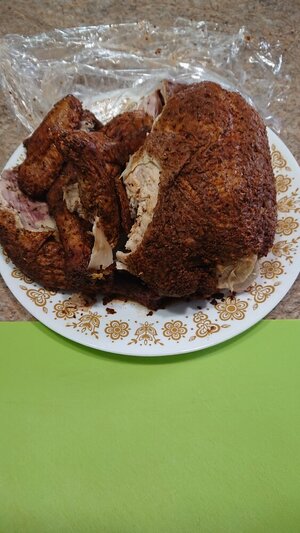 Let that simmer for a bit until well blended. The smell and the taste.....
Cut and clean out my peppers , add the chicken almost half full, mozza cheese , fill with the chicken and cover with more mozza
The first picture shows 3 peppers in the 3 stages. lol
Fill them up and into oven for 30 minutes , last 4 minutes under the broiler
Made some light sweet yellow rice .
So here is my plate , yes I took the biggest pepper, lol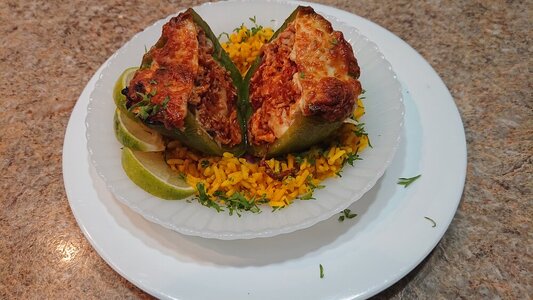 there you have it folks
My supper , good and tasty , and pretty to look at as I shovel it in
Thanks for looking
David