Epic Pitmaster
OTBS Member
SMF Premier Member
11,135
5,255
Joined Oct 31, 2012
One of my problems with smoking meat is that meat is expensive. I am cheap, what can I say? Chicken drumsticks are still almost affordable but what classy way can you make drumsticks? Turn them into lollipops. They look great and are way easier to eat with the ligaments cut off the lower part of the meat.
I made some Mexican seasonings. Warning, this is not a taco or chili seasoning. It has herbs and a big onion/garlic hit with just a little heat. Feel free to use any seasoning blend you like.
The seasoning mixture is:
20 ml (4 tsp) paprika
10 ml (2 tsp) dried parsley
8 ml (1 1/2 tsp) oregano
8 ml (1 1/2 tsp) Kosher salt
5 ml (1 tsp) onion powder
5 ml (1 tsp) garlic powder
8 ml (1 1/2 tsp) cumin
3 ml (1/2 tsp) ground coriander
5 ml (1 tsp) black pepper
4 ml (3/4 tsp) chili powder
4 ml (3/4 tsp) crushed dried chilies
Note the fancy calligraphy on my custom spice bottle.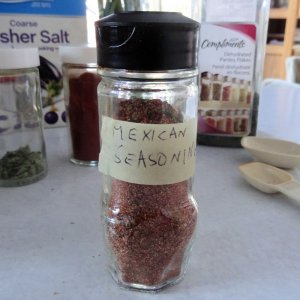 I took 8 drumsticks and sliced around the bone about 1 1/2 inches above the knuckle. The idea is to separate the tendon connections from the rest of the meat.
I pulled the skin over the knuckle and cut out any ligaments with shears. I cut the top of the drumstick to make a flat spot so the drumsticks would stand up.
I cut the knuckle off with poultry shears.
I sprinkled the drumsticks with the seasonings. I put 25 ml (2 tbsp) melted butter and 15 ml (1 tbsp) vegetable oil in a small roasting pan and stood the drumsticks in the pan. I smoked at 230 F for about 1 hour and 15 minutes (IT was 155).
I increased the pellet smoker to 400 f and took the drumsticks in.
I brushed the drumsticks with the drippings in the pan and sprinkled with seasonings again. I put them back in the pan and smoked at 400 F for about 25 minutes to get a nice colour. I let them rest and plated them.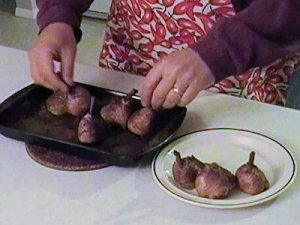 Here is the finished product.
The Verdict
If you like dry wings, you will like these. There is a nice skin with a good seasoning hit but not much heat. The meat bites of the bone easily with the ligaments removed. These are a great appetizer or light meal.
I did a video of this cook:
Disco