Gone but not forgotten. RIP
Original poster
OTBS Member
The local store had large fantastic looking honey crisps this weekend. I REALLY LIKE honey crisp bread puddings. Of course I thought I made those up. That is posted here.
http://www.smokingmeatforums.com/t/236249/fresh-apple-bread-pudding-with-caramel-sauce-foamheart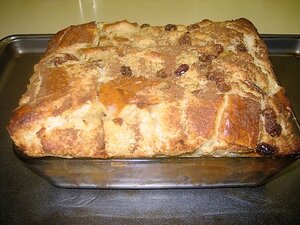 Or there was the delicious Apple Fritters!
BUT being the first beautiful weekend (even with all the debris and trash in the yard!) I went old school.
Apple Pie!!
Recipe you say? Seriously try this recipe and you'll never do another pie any other way! BTW, The recipes are copied from my own cookbook! Ain't that neat!
Apple Pie ***
Best apple pie ever!
Yield: 6 or 8 slices
Prep Time: 30 mins.
Cook Time: 1 hour + 90 mins cooling (bare min.)
Total Time: 1 hour
Ingredients:
| | |
| --- | --- |
| 5 | large honey crisp apples (thinly sliced) |
| 1 1/2 tsps | cinnamon |
| 1 stick | unsalted butter |
| 3 tbs | all-purpose flour |
| 1/4 cup | water |
| 1 cup | granulated sugar |
| 1 | egg for egg wash |
Directions:
Melt butter in a medium saucepan over medium heat. Whisk in 3 Tbsp flour then simmer for 1 minute, whisking constantly. Whisk in 1/4 cup water, 1 cup sugar and bring to a boil. Reduce heat and continue simmering 3 minutes, whisking frequently then remove from heat.
Peel, core and thinly slice approx 5 cups of apples and place them in a large bowl. Sprinkle the top with 1 1/2 tsp cinnamon and toss to combine. Pour the sauce over the apples and stir to coat the apple slices. Note raisins, cranraisins, and/or pecans are very good adders.
Sprinkle your work surface with flour and roll out bottom pie crust to a 12" diameter circle. Wrap it around your rolling pin to transfer it to the 9" pie plate. Add apple mixture, mounding slightly in the center and being careful not to get the filling on the edges which would make it difficult to seal.
Roll second crust into an 11" round and cut into 10 even thickness strips using a pizza cutter. Arrange strips in a woven lattice pattern over the top (see video tutorial). Beat together 1 egg and 1 Tbsp water and brush the top with egg mixture.
Bake at 425˚F for 15 minutes. Reduce the heat to 350˚F and continue baking another 45 minutes or until apples are soft and filling is bubbling through the vents. Rest at room temp at least 1 hour before serving (over night is better).
Crust?? Light flaky buttery delicious! Of course its easy!
Pie Crust (Kevin)
Serves: 2
Flaky! Buttery! Tender!
Yield: Two crusts
Prep Time: 20 mins.
Cook Time: 2 hours at 375
Total Time: 2 hours 35 minutes
Ingredients:
| | |
| --- | --- |
| 1/3 cup | butter unsalted |
| 1/3 cup | Cold lard |
| 1 tablespoon | sugar (if not a savory pie) |
| 1 pinch | salt |
| 2 cups | Unbleached flour |
| 7 tablespoons | Ice Cold water Approx. |
| 1/4 teaspoon | baking powder |
| 2 caps | Apple Cider vinegar |
Directions:
Refridgerate all items and ingrediants for 30 mins before starting. Sift dry ingrediants into bowl, cut lard and butter into 1/2 " pieces and add to flour w/ baking soda. With a pastry blender, knives, fork or fingers cut into flour.
Add approx 7 Tablespoons ice water w/ vinegar and gently turn in, now comes the experience. Add more if needed. LOL Until its possible for it to bind. Don't add too much or over mix. Put in plastic wrap, Refrigerate for 1/2 hour min. to hydrate, a day or two is better.
Don't forget the eggwash before placing in the oven.
Try it you'll love it, and you might even enjoy making it.
Last edited: