Master of the Pit
SMF Premier Member
2,007
1,395
Joined Jan 27, 2021
Glazed Pork side ribs ( 2 kinds ) and Inside Out Mashed Potato and Gravy Bombs "I know I take a lot of pictures "
Pork side ribs Whole. Cut the rack in two pieces
- First glaze is my Cherry and Rhubarb Jam, I made in the summer . One batch was to thick to use for jam , so back than I mentioned that I will use for a Glaze and in turnovers
- Second glaze is soya based and brown sugar and water , so not too salty
Used my rib spice mix and rubbed into the ribs and in fridge for couple hours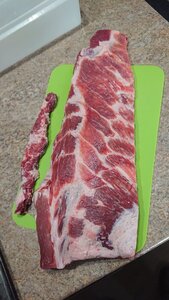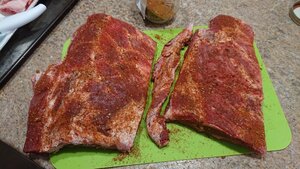 Set smoker at 225 Deg. with Hickory pellets and 2 chunks of Mesquite on top of them in CI pan
Put the ribs in for 2 hours , put temp up to 250 Deg. for next hour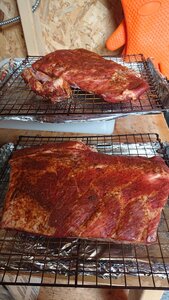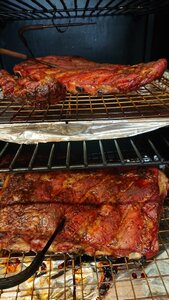 While this is going on I made my gravy let it cool and than into the FREEZER in ice cube tray , yes that's what I said. Ice cube tray
Also boiled the potatoes ( just fork tender ) not too soft. Still want a little sticky , mashed and added fine chopped onions and lots of parsley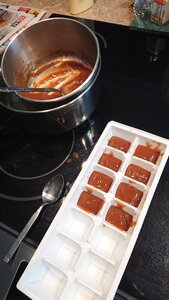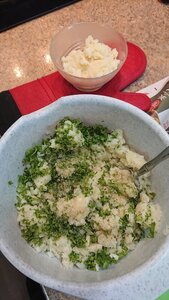 Also started the 2 glazes , For the Cherry Rhubarb , I only had to add a little water, as it was like solid pudding. Just let it simmer until nice and smooth , except for the cherry pieces.
for the soya glaze , I used half Soya Sauce and half water , brown sugar , all to taste . Not too salty, than thicken with corn starch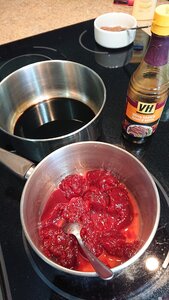 Ribs have been 3 hours , now wrap with a little apple juice for 1 hour . Temp now at 300 Deg.
Remove from foil and put on first coat of glaze, one on each piece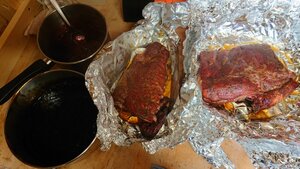 So while these are cooking, check my ice gravy ( ha ha ) it is set, now take potato and flatten out enough to wrap around the gravy
form into a nice ball , Roll in flour , milk and bread crumbs with Paprika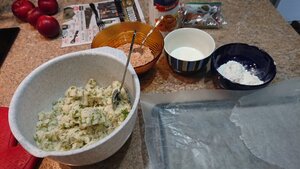 Now out to the "Smokers Shed " , spray with Pam to help the bread crumbs to crust. Flip the ribs put on another coat of Glaze.
Put temp up to 325. Deg. , for30 minutes and flip the ribs again and coat again. Pull Ribs let rest in the house. 15 more minutes for the Potatoes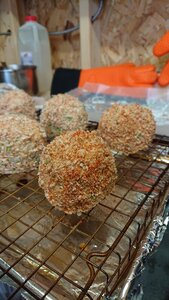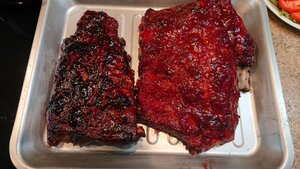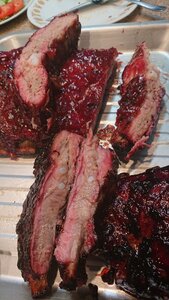 Everything is done , so plate it up Cherry ribs for me and Soya Ribs for Mona , and I did take a small piece of hers . Said it was for Quality Control. Got a weird look. lol
It was all great Maybe bigger cubes of gravy but I was told that it was just enough.
So here is the finished pictures . All plated up with some lettuce, tomato and sliced green pepper. And my bread and Butter pickles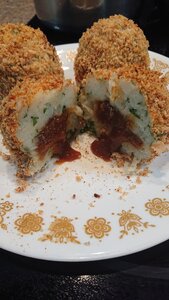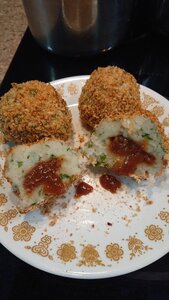 Thanks for making it to the end
Supper was great , but no Dessert, guess I will just have ice cream. lol
David