Smoked a small flat iron steak last night, it was a little frustrating had the usual stall at 135 degrees. I like to pull mine at 145 so with this stall it took about 2hr and 45 min.
Anyway it turned out pretty good. I use a Masterbilt electric smoker. I've had trouble with the smoke box that came with it, so couple years ago I bought one of the A-Maze-1 pellet things(not sure what you really call it ). Put pellets in it and light it, lay it on bottom rack and it works great.
I brushed it with low sodium Dales sauce then added Jeff Phillips Texas style rub.
I used Hickory pellets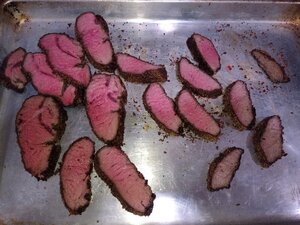 Last edited: