Legendary Pitmaster
OTBS Member
SMF Premier Member
8,025
7,202
Joined Oct 17, 2016
Divine Sweet Glaze
Adding in some minced chiles or a few shots of hot sauce could turn this into a kickin sweet/spicy glaze.
Feel free to play with this recipe, I was playing around when I came up with it.
Sometimes ideas pan out like a 49'ers goldrush wet dream.... Eureka!
Equal parts SBR Original and Bulldog Katsu sauce combined with 1/2 can of drained crushed Pineapple.
Bring to a slow boil, simmer to thicken.
A danged near divine sweet sauce.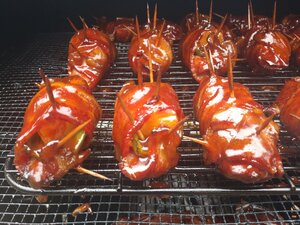 Last edited: