Legendary Pitmaster
Original poster
OTBS Member
SMF Premier Member
For me at least, cooking and eating is a relaxing hobby, and man do I ever need to relax.
I tried a new recipe today, a French classic called
Potato Pave.
There are a few variations on this recipe, but the standard is layers of thinly sliced potatoes washed in butter and cream, seasoned with plenty of salt, baked, cooled, pressed overnight, sliced and fried.
This is a recipe for starchy potatoes as the starches bind the potatoes together, so find some nice Russets or Idahos.
I've also seen this recipe done with Sweet Potatoes.
You can do as I did and mandolin the slices as for scalloped potatoes (round) or take the time to shape the potatoes into uniform rectangular blocks and then mandolin the broad side. You'll want these slices very thin, 1/16" slices.
Variations of this recipe call for either cream/butter/garlic, cream/butter/broth/garlic or even just butter/broth/garlic.
What's going on with the latter variant, how un-French is no cream?
But that is what I had to go with this time as I had no cream on hand, and it still turned out rather well.
Preheat oven to 375°
Grease an 8"x8"x2" or deeper baking dish, line it with parchment paper and grease that too.
Cooking spray or butter for greasing, but more butter means more flavor.
Be sure to leave at least a 4" overhang on the paper, it'll be helpful for loosening it from the baking dish for cutting.
3-1/2 lbs of potatoes, peeled and sliced 1/16" thick
1c heavy cream
1/2c chicken or vegetable broth
3T butter
1T finely minced or crushed garlic
Fresh Thyme for both frying and garnish
Salt, pepper and/or whatever seasonings you prefer
In a sauce pan combine the cream, broth, butter and garlic and bring to a low simmer, season to taste and allow to cool.
Now you can either dip the slices in a bowl of this liquid or lightly brush each layer as you proceed.
Lay down consecutive layers until the dish is full.
Fold edges of parchment over the top, cover tightly with foil and bake till probe tender, approximately one hour or longer as needed depending on thickness.
Allow to cool completely, during this time cut a piece of cardboard to fit inside top of the baking dish.
Wrap the foil around it, lay it atop the parchment covered potatoes and press firmly down, now add some heavy cans or cast iron on top and place in the fridge overnight.
The next day remove the weights, lift on the parchment to free it from the pan, flip it onto a cutting board and proceed to cutting.
Trim the four edges even and cut into twelve equal slices.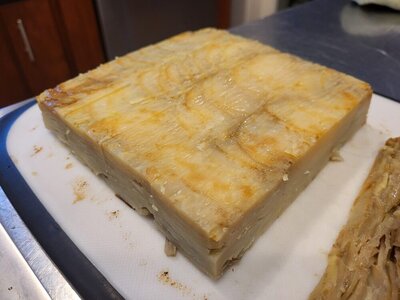 Heat some oil in a frying pan and fry the slices on two sides showing the layers until golden brown and crispy.
Be sure to add some fresh sprigs of thyme to infuse the oil as the slices cook, remove used thyme after the first batch, don't let it burn.
I used butter on the first batch, once the butter browned I did not like the color and I switched to EVOO and had excellent results.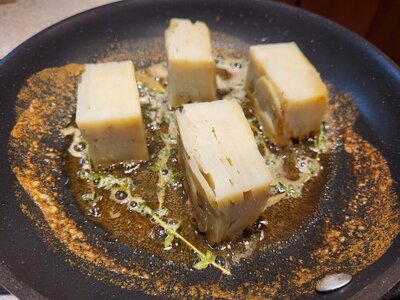 Garnish each slice with a small sprig of thyme.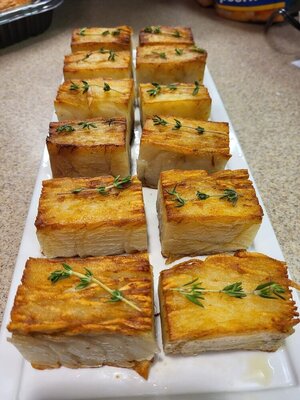 2-4 pieces per serving, serves 3-6.
This recipe is going to be a winner for future dinners.
Last edited: