Master of the Pit
OTBS Member
SMF Premier Member
2,144
2,508
Joined Dec 1, 2019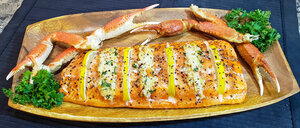 Two of my favorite foods came together. I started with about 3/4 cup of crab stuffing. The picked meat is seasoned with chopped onion, Old Bay, mayonnaise, parsley, garlic and lemon juice and allowed to chill for a couple of hours. After making some slits in the fillet, the flesh was rubbed with blood orange infused oil. The seasoning for the fillet is Oakridge Smoked Chile Lime rub and cracked black pepper.
Alternate half-slices of lemons and stuffing into slits in the fillet.
Lightly smoked for no more than 10 minutes, then over 30 minutes or so allowed the internal temp to creep up to 135°ish.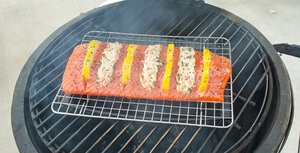 A kiss of live fire for some claws, they will get a fast steam right before plating.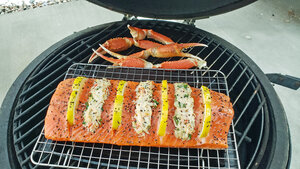 Almost there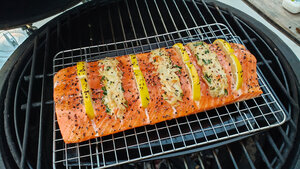 Where is the rest of the fillet go? .... why it's in the Big Chief. The belly strip turned out really nice. I used pecan on these pieces.