Master of the Pit
OTBS Member
SMF Premier Member
1,988
2,189
Joined Mar 8, 2017
Leidenheimer french bread
Mayo
Shredded lettuce
Dill pickles
Home made venison Italian sausage
Got my fresh Italian sausage all packaged today, left a couple packs out to cook for dinner. We did classic New Orleans style po-boys.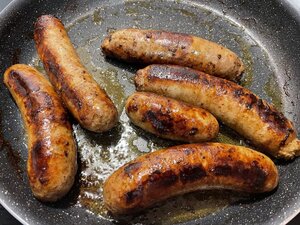 sautéed the Italian sausage and butterflied what we need for sammies tonight. Then I toasted the French bread for a few seconds. Want it slightly crunchy on the outside but nice and chewy on the inside.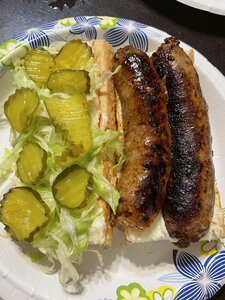 Mayo on each side, links on one, shredded lettuce and pickles on the other. If your in New Orleans, that's the way they come when you say "dressed", and it's perfect for Italian sausage po-boys.
glass of vino, cool ranch doritos. Our valentines dinner and we couldn't be happier.