Master of the Pit
Original poster
OTBS Member
SMF Premier Member
this dish came out so good, I had to post and share. My dad is enjoying retirement, and was fishing a stocked farm pond the other day. He stopped at my office yesterday and gave me six beautiful bass filets. So on the way home I grabbed some avocados and fresh salsa fixings. Nothing like fresh fish and there wasn't enough for a fish fry.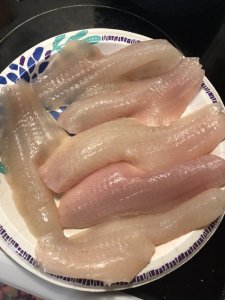 My dad has been cleaning fish for over 50 years, I've never seen anyone filet as well as he does. All I did with these fish was sprinkle them with blackened seasoning, smoked paprika & garlic powder; coating both sides well.
Then came the salsa. Chopped some Romas, avocados, jalapeño, cilantro, red onion, lime juice and salt.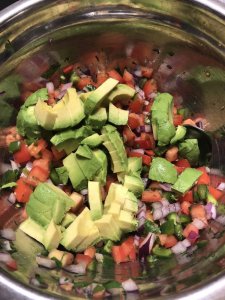 This salsa goes well on just about anything!
Then I got my skillet hot, added a 1/4 stick of butter and two tablespoons of olive oil. Then I simply blackened the fish. Basting occasionally and gently flipping the fish one time. The key is a hot, non stick pan and you want to move the fish as little as possible.
Right before the fish was ready to serve, I took two more avocados, sliced them thin and laid them on a plate.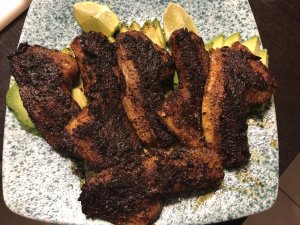 Then I placed the fish on top of the avocado slices. Served that on a plate and scooped some of the salsa on top of the fish. Fresh, spicy, and delish!
It may not be a traditional southern way to serve fish, but we love it this way. Hope you give it a try!