SMF Hall of Fame Pitmaster
Original poster
Staff member
Moderator
OTBS Member
★ Lifetime Premier ★
Jun 22, 2009
50,864
11,313
Many of you know that I just recently purchased a RT 1250. So of course I have been trying different things with it. Yesterday I added a water pan, and put some wood chunks on top of the burn pot cover. I didn't know what to expect so I kept a close eye on it with a fire extinguisher.
I set the RT to 225 to see if I would get any smoke flavor from the chunks. Normally I would have just started out on Extreme smoke.
And now for the star of the show!!
Perfect for a Sunday night dinner!
Into the RT!
Let it go about 1 1/2 hours to an IT of 120. It really took on some nice color.
OK now to season & put a crust on it. Just basic, Worsty, MSS, CBP.
All seasoned up & ready for the grill.
Threw on some mushrooms, onions, & little potato's.
Here it is!
Without a doubt this was one of the best steaks I have ever eaten. Incredibly tender, juicy, & full of beefy flavor. Very impressed with the CPB beef.
On to the experiment. I liked the water pan idea, kept the grill clean & was easy to clean out. Not sure if it made any difference in the meat taste or tenderness. But need to try it on a longer cook. As for the wood chunks on the CI cover, I don't think I gave them enough time to work. Just like the water pan, I need to do this for ribs or something that takes a few hours to cook. About 1 hour into the cook I did start to notice a different smell, so I know the wood was just getting started. Kinda like when you leave a split on top of the fire box too long & it starts to smolder. The good news is the grill didn't catch on fire. Here are the chunks after the smoker cooled down.
Before & after.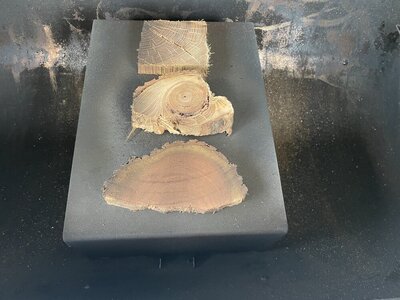 I think this may work, especially at higher temps., or longer cooks.
I'm going to keep playing with my new toy.
Also wish I didn't have 80 lbs. of RT pellets left. Really like the Lumberjack brand.
Thanks for stopping by guys!
Al