Smoking Guru
Original poster
OTBS Member
SMF Premier Member
A Ham-Cured Rib Ring filled with Loaded Mashed Potatoes
1st Year Anniversary , I joined a year ago this week, My first post was for ribs St Louis style . So I just wanted to step it up a bit with this post and did this.
Well on Jan. 27th 2021 I was allowed to join SMF. I had never smoked anything before except a hot dog over an open fire . If you want to call that smoking.
It has been a great year of learning a new way to cook- with a lot of help from this fine group.
And because of all the fantastic foods I see everyone put out , it makes me try to be as good
So a rack of side ribs, cut to a uniform width, brined for 24 hours in the fridge,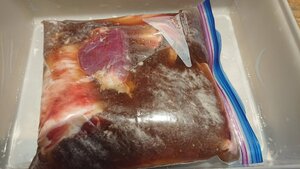 Put the ribs and cut offs in the smoker at 300 deg. for 1 hour with just pepper as the brine had enough salt for my taste .
before you ask, as you can see I left the membrane on for a reason so the ribs do not fall apart on one of me steps later.
Had to curl the ends a little as too long for the rack in smoker , The Ribs took the cure great ,as you can see in the color
After first hour glazed the ribs with a mixture of Sweet Baby Rays and more brown sugar, and wrapped for 1 hour. Brought out opened the foil flipped the ribs and added more glaze
and left the ribs on the foil as a tray and back in for 1 more hour. While this is going on I started the potatoes with the skins left on . Cooked bacon , chopped onions, green onions and cheddar cheese
Cool the potatoes , add all the chopped ingredients and Lawry's seasoning , mix and set aside.
Now the fun part, ( hind site is easy, but next time I will do this part before I cook the ribs ) bring the ribs out. And tie them into a ring shape .....can you say hay stupid the ribs are hot , smoker is hot.
Well I got it done and tied twice to hold the potatoes. Fill the inside with the potato mixture , made a small foil plate to help slide off later. Add more glaze




back in the smoker for 45 minutes at 335deg., while that is smoking slice up my orange and red sweet peppers and red onions. Fry them up with vinegar and soya Sause .
Remove the ribs and add cheddar to the top for 15 more minutes in smoker at 350deg.



ready to serve . Remove the string, cut and serve on plate with couple cheddar tea
biscuits


This was real fun to cook and build . Hope you all enjoyed the walk through. I hope to make it another year here with all of you. The ribs were just like a very tender ham
The potatoes were fantastic......and Mona made me my bestest cake , Chocolate and Chocolate fudge . Had to roll me out of the kitchen

Thanks for looking , hope you like this smoke
David ( had to change the header as if was confusing, very sorry David )
Last edited: