Master of the Pit
OTBS Member
SMF Premier Member
1,988
2,189
Joined Mar 8, 2017
Spent the last few days down in Belle Chasse, Louisiana. I cook for a team that has competed at this annual, local bbq event called Hogs For The Cause. It's a big bbq comp where teams raise money to help families of children with pediatric brain cancer, while competing in various bbq/smoking related events. Thousands of people come to listen to great live music and eat plenty of Q for two days a year, with all the proceeds going to such a wonderful cause.
The categories are Boston butt, ribs, and whole hog. You can compete in as many of the main events as you like. And there are several other events, including team fundraising amounts, and specialty dishes, usually using ingredients from big corporate sponsors like Neuskis bacon and Tabasco.
Well this year, like every other, we competed in every event. Proud to say we placed in two big events, top ten in fundraising and 1st place in whole hog. We raised over $80,000 as a team, and the event raised over 3 million dollars!
I bring both of my Langs, my 36 patio and the Fatboy get plenty of use over the two days. This year we had horrible weather, mud and slop everywhere as well as countless other challenges along the way.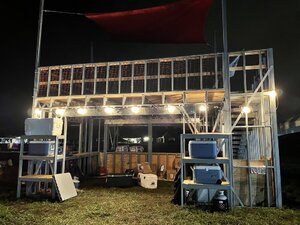 setting up all the equipment Thursday night after work. I was lucky not to be one of the team members that has to set up and break down our structure, but my work comes later. Running the pits for two days, staying up all night Friday and handling the big three meats, prep, box turn ins, etc. is almost more than I can handle!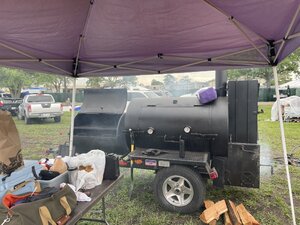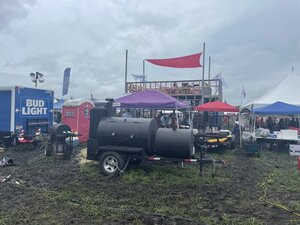 My setup and our wood, which we had delivered to the event. This ended up being a rare luxury because everything was wet.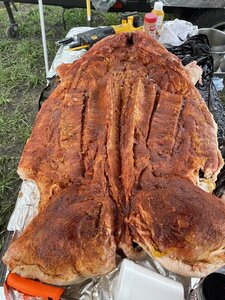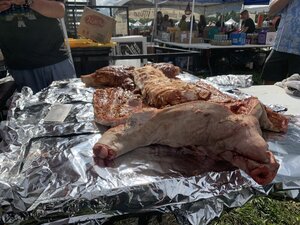 Whole hog prep and seasoning was a lot of work. I watched a few videos and had a pretty good plan so I just focused and worked as hard as possible to follow through.
Hog took right at 12 hours running 225-240 most of the night, uncovered in a steady rain. I basted every few hours and stayed up all night as the rains turned into downpours. I started my comp butts late at night so no pics of that cook.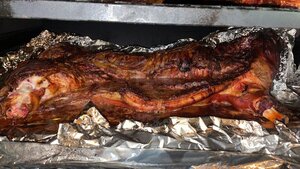 Hog looked really nice, only got one or two pics on the pit. 110lbs on the hoof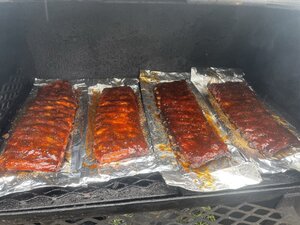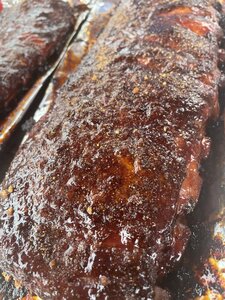 We were so slammed and spread thin we barely got pics of the rib cook, butt cook or box preps but I did my best.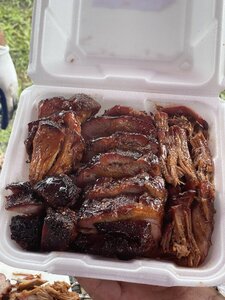 Our shoulder box and whole hog box. It's funny, we felt most confident about the butt and ribs. But our goal was to win an event, or at least get a call so when we got the call for 1st place whole hog, out of over 80 teams, needless to say, we were overjoyed!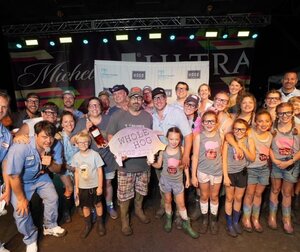 what am incredible feeling to get the call on stage for something you love doing so much, and for such a great cause.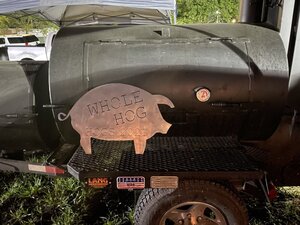 the Fatboy with her first piece of hardware!!
Celebrating the win. Exhausted, elated and slightly intoxicated.
What a weekend!
Last edited: