Master of the Pit
OTBS Member
SMF Premier Member
1,267
1,116
Joined Mar 8, 2017
Did a 25lb batch of venison snack sticks. First deer on the ground was a big old doe, and I am going on a week long hunt in Missouri, so I wanted some goodies for the trip. Here we go.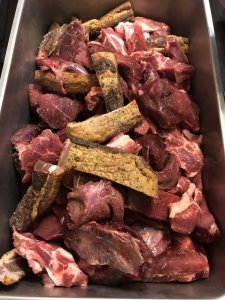 started out with 12.5 lbs of venison, 10lbs of pork from a Boston butt, and 2.5 lbs of bacon ends from my home made bacon supply. I was also using PS Seasonings Tex Mex mix. I've been enjoying their blends lately.
A while back I bought a #32 Cabelas 1.5 hp grinder from a friend. It is a beast. Well same guy let me borrow his mixer and lem 25 lb electric stuffer.
This equipment made the job a whole lot easier until I had to clean it in my little old sink!!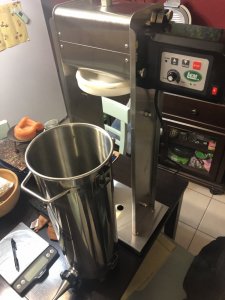 the stuffing part really took a lot of patience. Even though it's a lot easier having the electric, I still had my hands full so not a lot of pics during this phase.
Now I had to hunt this weekend, so I refrigerated the sausages over the weekend, and smoked them on my Lang Sunday evening.
I used hickory chunks and hickory pellets. I ran 100 for 1st hour, bumped to 150 the next 4 hours, then up to 175 until my sticks hit 150/155 internal. About 5.5 hrs total.
here they are initially at 100, while I was drying them off.
And here they are right before I pulled them.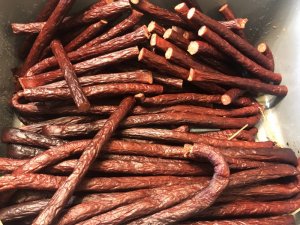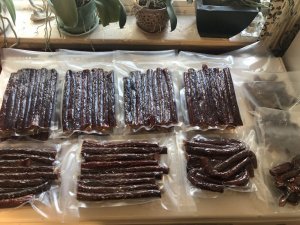 really happy with how these came out. Smoky, spicy and a really good snap. Thanks for looking.