Master of the Pit
Original poster
OTBS Member
SMF Premier Member
First off, I do know the proper usage of to, two, and too. This title is a dad joke. A while back I spotted an enormous marinated tri-tip at Costco. Unlike a lot of regions tri-tip is plentiful here. So I grabbed it thinking I hit the jackpot. I fired up
My smoker yesterday to cook my first brisket and since I had the space I thought I'd put a little smoke on this big boy and then do a classic reverse sear. However…
When I opened it to my great disappointment, and for the first time ever in grilling tri-tip for 30 years, there were two of them, both substandard. The butcher should have thrown these into the grinder instead of cheating.
The timing turned out to be great because now I could do a brisket smoke on a tri-tip. I trussed it up and into the smoker it went.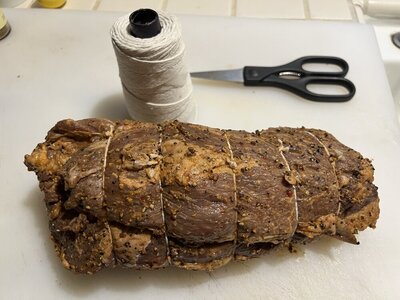 It joined my brisket and a couple small corned beef chunks.
With all these probes everywhere the Yoder looked like a meat hospital. About 6 hours later it was probe-tender and into the holding oven it went.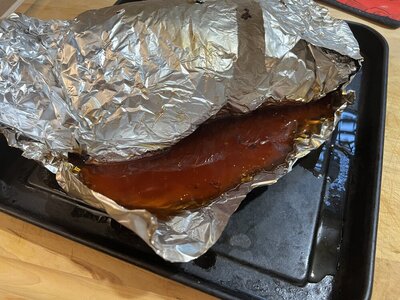 It gave me an ample amount of liquid gold!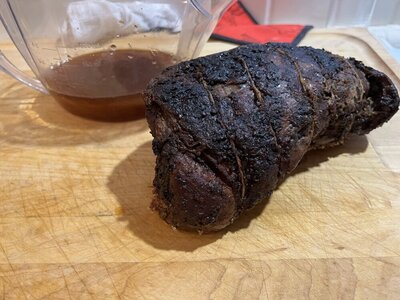 I put the wonder juice into a separator as the fat is just too much. And, as you'll see…
…the meat crumbles will tell you parts went a bit too far and it overcooked. It tasted almost on-par with the brisket. In fact, because of the smaller size and being empty nesters, this may make a reasonable substitute. This is how I wanted my brisket to turn out. However, I still prefer tri-tip grilled to rare. My magic spot is 121 degrees because it still has a lot of "moo" in it.
Last edited: