Legendary Pitmaster
OTBS Member
SMF Premier Member
7,954
7,048
Joined Oct 17, 2016
I took half a pork loin out to defrost yesterday with no clear idea of what I was going to make with it. Then last night while updating my recipe index I hit upon it with my Sweet-n-Savory, Apple/Bacon pork stuffing.
Link>>>
Sweet-n-Savory Pork Stuffing, Apple/Bacon
So I sharpened my favorite filet knife and butterflied my pork loin.
Then I pounded it out and it's ready for stuffing.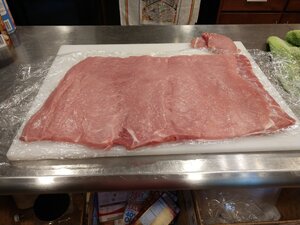 So lets make that stuffing, we'll cut it down a bit from what was needed for all those chops in the linked recipe.
And I'm mincing and adding in the pork trimmings to the stuffing.
Sweet-n-Savory, Apple/Bacon Pork Stuffing
3c peeled and diced apple
2c crumbled bacon
1c minced pork loin trimmings (optional)
1.5c diced sweet onion
1/2c diced celery
1 stick butter
3/4c brown sugar
2c unseasoned bread/Panko crumbs
Parsley, rubbed sage, thyme and salt
***If not cooking the loin immediately, be sure to cool the stuffing thoroughly before using to avoid creating a breeding ground for food borne pathogens.***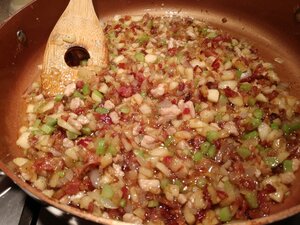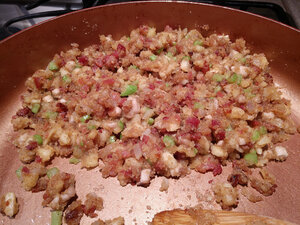 More to come, stand by Pork Fans.
Last edited: