Epic Pitmaster
Original poster
OTBS Member
★ Lifetime Premier ★
Dec 14, 2013
14,609
12,588
Cooked up some of the steaks from this thread ,
This is another whole cut from Gordon's food service . No roll , $6.99 a pound . This one looked pretty good in the bag so I grabbed it . I bought the whole ribeye a week or so ago . Figure I'll have some good trim from the 2 for ground beef for the freezer . Nice and thick . Fat looks pretty...

www.smokingmeatforums.com
Wanted to go on
the kettle
over mesquite coals , but was way to windy . So My next favorite way is in a cast iron skillet , then finished in the oven .
Seasoned up with Canadian Steak seasoning , then held under vacuum over night .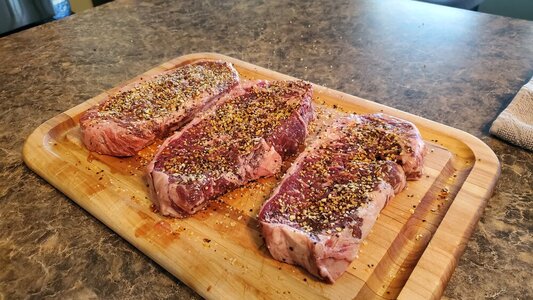 Next day I let them warm up on the counter for an hour or so .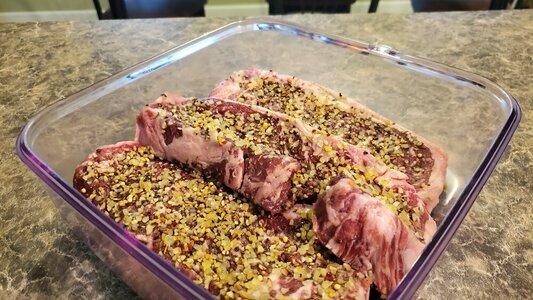 Heat up the cast iron . 1950's Wagner . Ate a lot of meals from that when I was a kid .
Steaks go in . I put just a bit of oil in the bottom because they were wet
from the seasoning . If they were dried off , I would go in the pan without oil .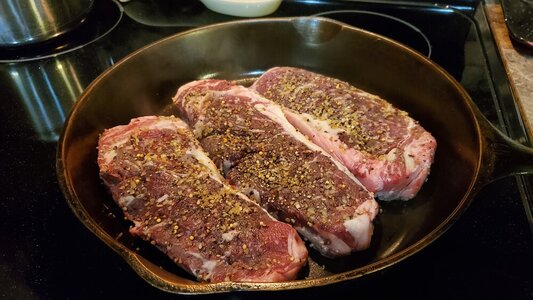 Didn't get the pan as hot as I wanted at the edges , and the pan is a bit crowded .
When they release I flip .
Add butter , garlic and Thyme from the Aero garden .
Then into a 350 degree oven .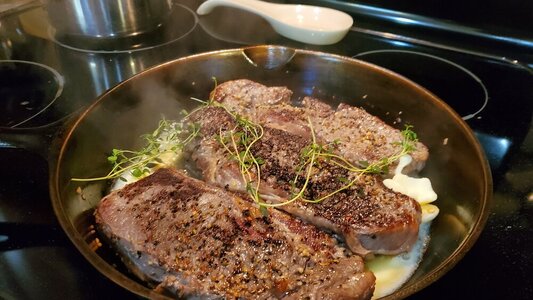 Coming out of the oven . Smells fantastic .
Not the best color on one on the left , but it was like butter .
Rested and sliced . Great flavor on these , and completely tender .
I usually add Rosemary to the pan too , but I was out .