668
645
Joined Sep 28, 2018
I can't take credit for this recipe, but I'll definitely share it because it's worth sharing. The Pioneer Woman has a recipe for Sour Cream Chicken Enchiladas, so I substituted the
smoked turkey I meal-prepped
the other day and that kicked it into a whole different gear.
I also used some hatch green chiles that I fire-roasted and put up from this summer (those are hard to come by in Montana!).
Here's her recipe:
https://thepioneerwoman.com/cooking/white-chicken-enchiladas/
You could literally use any meat you wanted to in these and it would come out creamy, cheesy, and delicious!
My personal advice when making enchiladas:
1. Fill up the tortilla like you mean it. Nobody ever made friends by skimping on the enchilada filling. Plus, if you fill 'em up good then people feel better about themselves. Kind of like this: "Man, it only took 2 enchiladas to get me full instead of my normal 5. My resolution to eat less is really starting to work!"
2. Since your doing it anyway, always make a second pan to take to a friend or neighbor. What the world needs is more kindness and care shown to one another. BBQ (or cooking in general) is so easy to do that with. Seriously people, spread some love.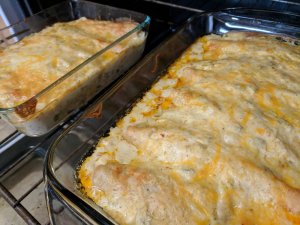 3. Don't go easy on the cheese. If the cheese isn't sliding off the top of the enchilada when you plate, you failed to make a proper enchilada. Wipe your tears, learn from your mistake, and don't let it happen again.