So this is my first attempt at a home built smoker.
I would like to do something different, and this is what i came up with.
Not really sure where to put it as there was no submenu for vertical smokers.
Please let me know what you guys think of it. Whether you like it, or think it's shite, all advice and/or suggestions are welcome .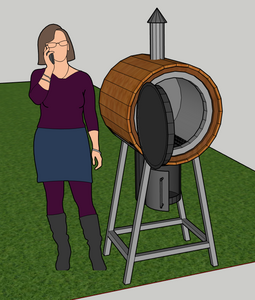 Woman for scale.
Made a nice drawing in sketchup already.
The plan is to make it from 2mm steel plate. Rolling and welding the firebox, cooking chamber with lid and exhaust together.
Then insulating only the cooking chamber by making a wooden shell with rockwool (or something else maybe?) around the chamber.
My first thought was to make it so that the smoker just sits in the carriage, making it easy to take of, in case i would like to adjust it in the future.
Dimensions of the cooking chamber are: 600mm diameter and 500mm deep.
Of course i will gladly answer any questions.
Kind regards,
Rembrandt