Epic Pitmaster
OTBS Member
★ Lifetime Premier ★
14,376
6,066
Joined Jun 25, 2014
Picked up a Top Round Roast for $2.49 Froze it.
Thawed it out and gave it a 2 days of a S&P dry rub.
In the oven @ 275°F for 3o minutes then turn down to 225°F
Using my Inkbird IBT-6XS
4 1/2 Hrs. later 135°F
Testing the mod on my slicer Thanks

daveomak
Well, I got tired of not being able to slice meat thin, like deli thin.... I just made some Pastrami and decided to make my slicer work, "close" to what a deli can do.... ..... I cut a piece of ~0.084 aluminum I bought from
Amazon
... oversized to the platen on the slicer.... It hangs over...
www.smokingmeatforums.com
Paper thin slice you can see thru it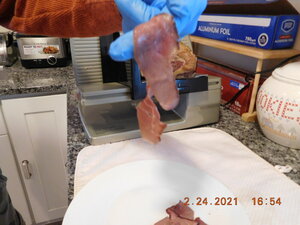 Still have a tale but very small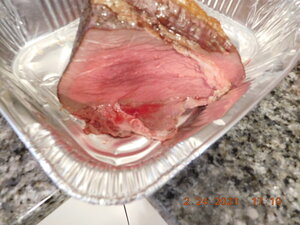 Slice some Italian Bread added some Swiss Cheese
and Nuked it
Loaded it up with the Roast Beef an more Au-Jus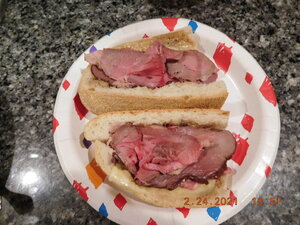 Thanks for watching
Richie