SMF Hall of Fame Pitmaster
OTBS Member
SMF Premier Member
26,387
3,779
Joined Nov 12, 2010
Well, I got tired of not being able to slice meat thin, like deli thin....
I just made some Pastrami and decided to make my slicer work, "close" to what a deli can do....
.....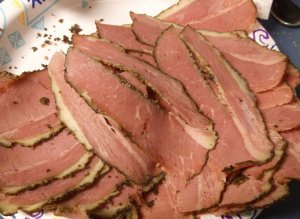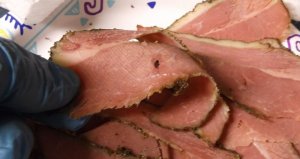 I cut a piece of ~0.084 aluminum I bought from
Amazon
... oversized to the platen on the slicer....
It hangs over the leading edge and the free side of the slicer...
Cleaned the platen and the aluminum sheet.. scuffed the aluminum sheet so the Marine Caulk, polyurethane, would stick... The caulk was put on thick so I could run hot water and sanitation stuff between the plate and the platen to clean any stuff from between... and also sanitize the area...
The plate edges were smoothed with fine sanding paper... The leading corner that is closest to the blade, had a tapered edge so it would not hang up on the housing when it slid by....
The tapered leading edge is just to the right of the blade...
I set the platen just outside the blade to make a very small gap so I could slice meat thin and glued the plate down... There's about a 0.040 gap between the plate and the cutting edge of the blade....
..
The white is the sealer, and showing the gap... Looking at the bottom or the plate....

..
The results are better than I thought.... Perfect very thin sliced meat...
Aluminum Plate
Marine Sealant
I'm a happy camper.... It's beer thirty now....
Last edited: