Smoking Guru
OTBS Member
SMF Premier Member
★ Lifetime Premier ★
6,198
2,879
Joined Dec 14, 2013
I haven't fired up any smokers or grills in a couple weeks . Not normal for me , most things get done outside in some form . Been busy in the work shop , making cutting boards and doing a new coffee table for myself . Gets to late , and the emerald 360 makes it to easy .
Also , haven't had pork tenderloin in awhile , so I had a twin pack that I thawed out . Well came out of the shop ,, to late again , so I started to pre heat the oven . Nope ,, not again . Went out and put the controller on the MES set to 275 .
Cleaned the pork up , seasoned with Canadian steak seasoning and waited .
I've been using chunks of wood over the element for higher temp cooks . You don't get as much color , but the smoke flavor is perfect .
Anyway ,
Seasoned and waiting .
Mes came up to temp pretty fast . Adjusted to 265 and added the pork . One chunk of apple smoking along nicely .
Took about an hour or so .
Out of the smoker resting and watching the carry over . Smells great .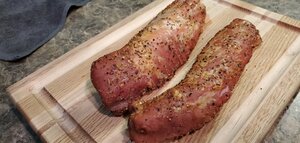 Went up more than expected , pulled at 140 .
Perfect !!
This was a great meal . The smoke on that meat from using chunks in an electric smoker is as good as any stick burner or charcoal grill I've used .
Big difference from pellets .
Makes a great cold sandwich too .
Thanks for lookin .